Meet Tammy Stein - A Dedicated Blood Donor
February 9, 2009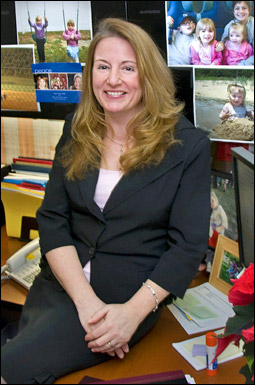 Tammy Stein
Two years ago, Tammy Stein's husband Ed had a heart attack. He was diagnosed with several aneurysms, and their youngest child had not yet turned a year old.
"If anything happens," Stein said, "he may need a blood transfusion one day."
Thinking about people who require blood transfusions was not new to Stein. She began donating blood at the Lab long ago -- in 1992 -- to help others who were sick, most likely people she would never meet.
She had not expected one of the possible recipients to live in her own house.
"My blood may not match my husband's, but it will match someone else's," she said. "I will just have to hope that someone else will donate what he might need."
Stein said she is blessed to have four healthy children, but she has met families who are not as lucky. Her 12-year-old daughter's classmate has brain cancer, and, each week, goes to Stony Brook University Medical Center for treatment and blood transfusions.
"Some of the kids there aren't old enough to understand what cancer is or even pronounce the type of disease they have," Stein said.
Stein's daughter, in support of those like her classmate, donates her hair to Locks of Love -- 12 inches every two years. Ed and their son also volunteer their hair through St. Baldrick's Foundation, an organization that coordinates worldwide head-shaving events to fund childhood cancer research.
Donating blood helps those who need it but also alerts the donor to the health of their blood, Stein added, which is how she learned of her own low iron levels.
Stein has been the Administrative Assistant to the NSLS-II Project Support Division Director since 2006, and is very happy that the Lab makes it so convenient to donate blood.
2009-1054 | INT/EXT | Newsroom