Taking Our Children to Work
May 1, 2009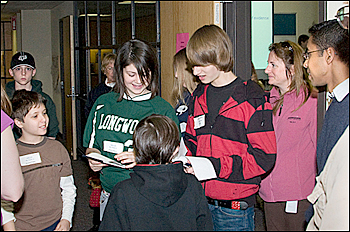 More than one hundred boys and girls joined their parents at BNL for the annual "Take Your Children to Work Day," held on April 23. After a morning spent in the departments and divisions, learning about the work being done by the family breadwinners, the children had lunch in the Cafeteria, then gathered in Berkner Hall auditorium for a warm welcome from Lab Director Sam Aronson, who was introduced by Ernie Tucker of the Human Resources & Occupational Medicine Division (HROM).
A riveting talk on addiction followed, given by Stephen Dewey of the Medical Department. An internationally renowned expert on addiction research and treatment, with an extraordinary ability to "get through" to youthful listeners, Dewey is constantly in demand as a speaker at local schools and shares his leisure time generously to help children avoid addiction.
Divided into groups according to age, the children then mounted buses to visit different work areas around the site. The schedule, coordinated by Elaine Lowenstein of Community, Education, Government & Public Affairs (CEGPA), allowed each child to learn about several different kinds of work: Chuck La Salla and his colleagues welcomed them at the Fire Department, CEGPA's Gail Donoghue and her staff led them in experiencing the fun of science at the Science Learning Center, Site Services Division Head Tom Lambertson introduced them to the excitement of giant machine, and Doug Paquette and Vinnie Racaniello of the Environmental Protection Division explained the importance of profiling our water table. In addition, Gary Conte of the National Weather Service showed the children how to check out "wild weather" in time to be prepared.
During this time, everyone returned to Berkner at 3 p.m. to attend a Lab-wide talk on "Packing a Garbage-Free Lunch," by Rosemary Wiesner, Community Relations Director for the Town of Brookhaven's Department of Waste Management.
Said HROM's Liz Gilbert, who, assisted by many Lab and parent volunteers, organized the event, "This was a wonderful opportunity for the children, as well as all the volunteers, to participate in such an educational and fun-filled day. We appreciate everyone who offered their time, efforts and knowledge to help with the day."
2009-1184 | INT/EXT | Newsroom