Using Plants To Help the Environment
Northeast Phytotechnology Research Consortium Proposed
April 23, 2009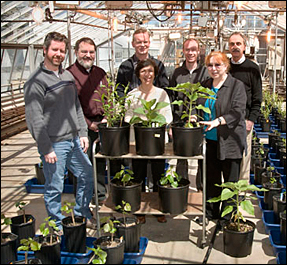 In a Biology Department greenhouse are (from left) Jason White, Connecticut Agricultural Research Station; Charles (Mike) Reynolds, Army Cold Regions Research & Engineering Laboratory; Daniel (Niels) van der Lelie, Safiyh Taghavi, Sebastien Monchy, and Lee Newman, all of BNL; and Guy Lanza, University of Massachusetts.
On April 16, three scientists from the Biology Department — Daniel (Niels) van der Lelie, Safiyh Taghavi, and Lee Newman — met at BNL with Guy Lanza of the University of Massachusetts, Charles (Mike) Reynolds of the Army Cold Regions Research & Engineering Laboratory, and Jason White of the Connecticut Agricultural Research Station to start the Northeast Phytotechnology Research Consortium.
Phytotechnology is defined by the group as using plant-based technologies to deal with environmental issues. This includes phytoremediation, or cleaning environmental pollutants using plants, carbon sequestration, biomass for biofuel production, and plants for environmental risk assessment.
Now, van der Lelie and Taghavi, who have extensive experience in plant/microbe interactions, and Newman, a leader in phytoremediation who additionally is co-editor-in-chief of the International Journal of Phytoremediation, met with Lanza, Reynolds, and White, all experts in different areas of phytotechnologies. The group hopes to harness their particular expertise to understand issues such as how plants can address environmental challenges or adapt to changing environmental conditions. This knowledge can be exploited to improve environmental restoration, carbon sequestration, sustainable production of biofuel feedstocks on marginal soils, or to understand the fate of nanomaterials in the environment.
Said van der Lelie, "Plants can fulfill a central role to address many of DOE's mission needs in energy production and environmental stewardship."
2009-1190 | INT/EXT | Newsroom