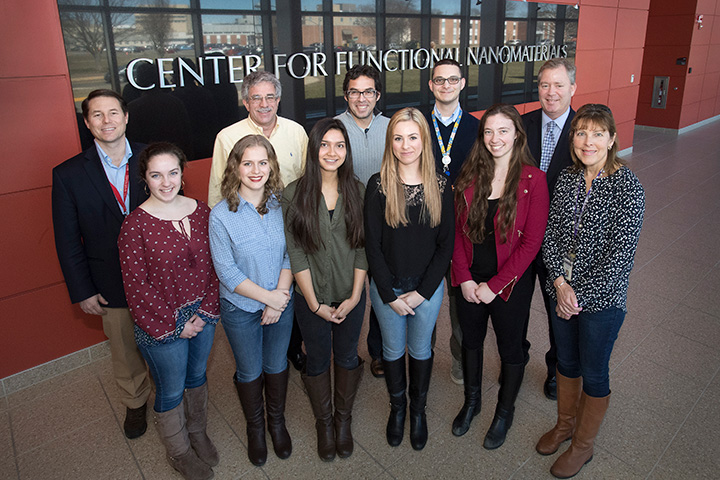 Students with (from left to right) Brookhaven K-12 programs manager Scott Bronson, Office of Educational Programs manager Ken White, CFN scientist Fernando Camino, CFN user Rick Darienzo, Shoreham-Wading River assistant principal Kevin Vann, and science teacher Lori Racaniello.
Although the five young women from Shoreham-Wading River and Earl L. Vandermeulen High Schools could not go into the lab, a little creative thinking on their mentor's part brought the lab to them. Mentor Richard Darienzo is a PhD student at Stony Brook University who comes to the Center for Functional Nanomaterials (CFN) at the U.S. Department of Energy's Brookhaven National Laboratory to use its unique tools for nanoscale science. Because special training is required to enter labs at CFN, Darienzo set up a web conference. As he analyzed samples of gold nanoparticles, the students interacted via video from a nearby room.
"Even if they forget everything I shared with them, or they choose careers outside of science, I know they will appreciate the amount of work involved in research," said Darienzo.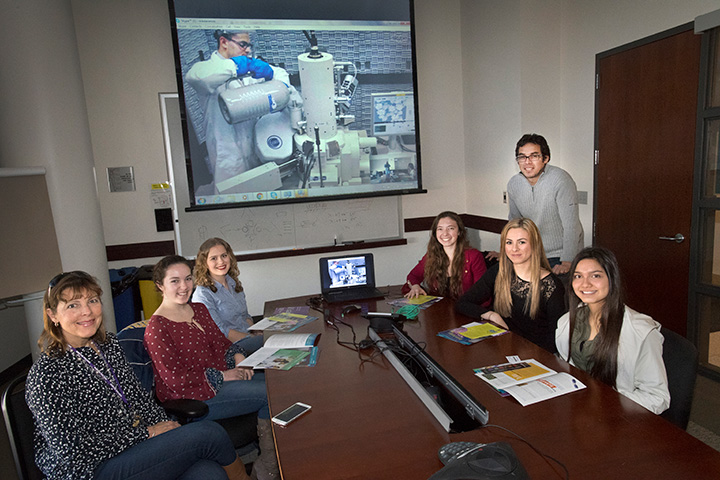 Students with teacher Lori Racaniello, CFN scientist Fernando Camino and CFN user Rick Darienzo (on-screen).
The students had been working with Darienzo at Stony Brook to gain hands-on science experience and learn about his work on a novel imaging technique for guiding breast cancer surgery. At his university lab, the group synthesized gold nanoparticles, which they then brought to Brookhaven for analysis using an electron microscope at CFN. Accompanied by Shoreham-Wading River science teacher Lori Racaniello and assistant principal Kevin Vann, the students followed along and asked questions as Darienzo scanned the samples.
"We've had great success videoconferencing with K-12 students in the Freeport School District, so we thought the web interface would also work well with this group," said CFN scientist Fernando Camino.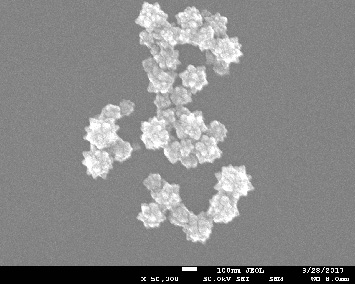 Gold nanoparticles synthesized by local high school students, imaged under an electron microscope at CFN.
The group also toured other areas of the CFN, a DOE Office of Science User Facility that attracts researchers from around the world. The group viewed labs where nanoscientists work to advance applications such as solar cells, batteries, and catalysts.
"As we operate this incredible research facility, it's important for us to interact with high school students to promote diversity in research and attract the next generation of scientists to tackle the world's problems. It's even better when we get to partner with our own CFN users on this kind of outreach," said Camino.
Added Charles Black, Director of CFN, "We're helping to train our nation's future scientific workforce by engaging with students at all levels, and showing them the exciting work that we do."
Brookhaven National Laboratory is supported by the Office of Science of the U.S. Department of Energy. The Office of Science is the single largest supporter of basic research in the physical sciences in the United States, and is working to address some of the most pressing challenges of our time. For more information, please visit science.energy.gov.