Erick Hunt Named Manager of Research Partnerships at Brookhaven Lab
July 24, 2017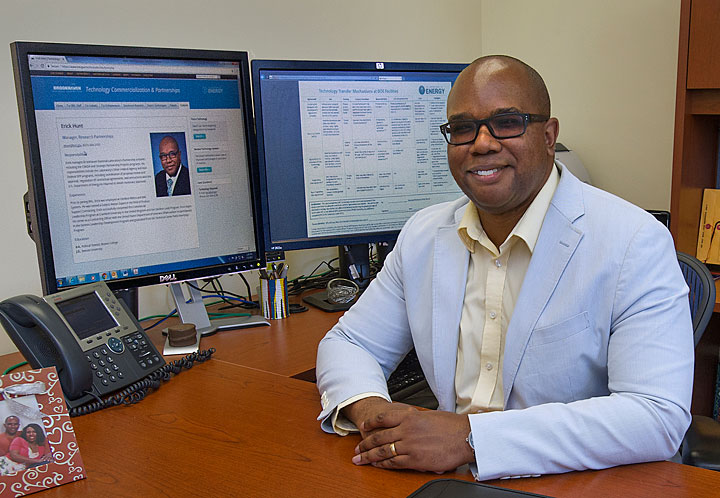 enlarge
Erick Hunt
Erick Hunt has been named Manager of Research Partnerships at the U.S. Department of Energy's (DOE) Brookhaven National Laboratory, effective May 22, 2017.
Hunt comes to Brookhaven from Oerlikon Metco—a Swiss company that manufactures thermal spray coatings—where he served as the head of contract management and compliance activities. Prior to his experience at Oerlikon, Hunt was a contact manager for military equipment at BAE Systems, a defense and aerospace firm.
"I jumped at the opportunity to be here at Brookhaven," said Hunt, who was drawn to the Lab by the chance to be a part of cutting-edge science research. "It's really impressive that the work taking place a few doors down from me could change the world."
At Brookhaven, Hunt will manage the Lab's partnership activities and build relationships with federal agencies, universities, and private entities. Along with his colleagues in the Technology Commercialization & Partnerships office, Hunt will field and generate contractual agreements with outside partners.
One of Hunt's goals is to help diversify Brookhaven's partnerships. He hopes to create new relationships with private entities by finding opportunities to commercialize the discoveries made at the Lab. Compared to some other national laboratories, Brookhaven relies more heavily on funding from the DOE's Office of Science.
"We have an opportunity to reach out to different sponsors, show them all the great capabilities we have within the Lab, and expand our research base," he said.
Hunt earned his J.D. from Stetson University and a bachelor's degree in Political Science from Boston College. He is a proud alum and loves to root for the Boston College Eagles. He is originally from Brooklyn, New York, but has lived on Long Island for the past nine years. In his spare time, Hunt enjoys travel, photography and outdoor activities such as fishing and hiking.
2017-12344 | INT/EXT | Newsroom