Yale Psychologist Laurie Santos to Speak on 'What Makes Humans Special? Insights From Non-Human Primates' at Brookhaven Lab on Thursday, 7/13
July 7, 2017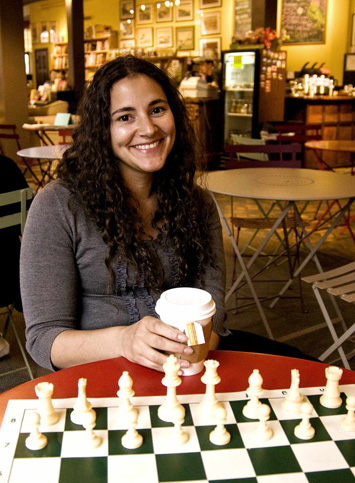 enlarge
Laurie Santos
Yale University psychologist Laurie Santos will deliver a talk, titled "What Makes Humans Special? Insights From Non-Human Primates," at the U.S. Department of Energy's Brookhaven National Laboratory on Thursday, July 13, at 4:30 p.m. in the Physics Large Seminar Room (Bldg. 510). Coffee and cookies will be served at 4 p.m. Sponsored by Brookhaven Science Associates, and part of the Brookhaven Women in Science (BWIS) speaker series, the event is free and open to the public. All visitors to the Laboratory age 16 and older must bring a photo I.D.
About the Talk
Why are humans the only species that reads fiction, tells jokes, and shares photos on Instagram? In this talk, Santos will explore this question of human uniqueness by examining what makes the human mind so different from that of other animals.
Santos will first discuss recent work in comparative cognition that shows a number of ways that other animals are strikingly similar to humans in the way they think about the world. She will also explore some key cognitive differences between humans and other animals that make the human species different from other animals and a bit less rational than you might expect.
Add This Event to Your Calendar
About the Speaker
Santos is an expert on human thought processes, its origins, and the evolutionary biases that influence our all-too imperfect life choices. She earned her Ph.D. in psychology from Harvard University and is a professor of psychology at Yale University, where she serves as director of the Comparative Cognition Laboratory as well as the Canine Cognition Center, a facility where researchers study how dogs think about the world.
Santos' numerous awards for science, teaching, and mentorship include the Stanton Prize from the Society for Philosophy and Psychology for outstanding contributions to interdisciplinary research.
Santos' scientific research is widely published, and she and her work have been featured in numerous media outlets, such as The New York Times, The Wall Street Journal, The Economist, The New Yorker, New Scientist, Smithsonian Magazine, and Discover Magazine, as well as on the History Channel, NPR, and NOVA. She was named one of Popular Science Magazine's "Brilliant 10," and a TIME magazine "Leading Campus Celebrity." Santos' TED Talk has well over a million views.
About BWIS
Brookhaven Women in Science (BWIS) is a diverse and inclusive community that promotes equal opportunity and advancement for all women in support of world-class science. BWIS is a volunteer-run 501(c)(3) non-profit funded by Brookhaven Science Associates and membership dues.
2017-12345 | INT/EXT | Newsroom