Leona Woods Distinguished Postdoctoral Lectureship Award
A new effort to recognize the contributions of outstanding female physicists and physicists from underrepresented minority groups
September 26, 2017
enlarge
Leona Woods, John Wheeler, and others at the Hanford reactor in Washington State.
The Physics Department at the U.S. Department of Energy's Brookhaven National Laboratory has inaugurated a new lectureship award to celebrate the scientific accomplishments of outstanding female physicists and physicists from underrepresented minority groups. Recipients of the Leona Woods Distinguished Postdoctoral Lectureship Award will receive a $1,000 prize, and be invited to spend at least one week at Brookhaven Lab to discuss their research informally with local physicists and give a general-interest colloquium and a technical talk in their area of expertise (both open to the public).
"Diversity and inclusion are important goals for the laboratory," said Sally Dawson, chair of the Physics Department's diversity committee. "This program directly helps us to identify rising young stars and to learn from them."
The award is named for Leona Woods, one of a small number of female physicists who contributed to the Manhattan Project and later served as a visiting physicist at Brookhaven Lab from 1958 to 1962.
Woods helped to build detectors used to analyze radiation during early Manhattan Project experiments. She was the only woman present when Enrico Fermi's nuclear pile went critical at the University of Chicago in 1942, creating the world's first controlled, self-sustaining nuclear chain reaction. Later, at the Hanford reactor used to produce fuel for the first atomic bomb, she helped identify and solve a problem with a particular isotope that threatened to stall the production of plutonium needed for the war effort.
After the war, she worked at the Institute for Advanced Study at Princeton University and spent time at Brookhaven Lab as a visiting scientist, guest physicist, and research collaborator. During this time, she switched her research focus to high-energy physics and designed a muon beam at the Alternating Gradient Synchrotron (AGS).
"At that time, Gertrude Goldhaber was the only female scientist in the Physics Department at Brookhaven," Dawson said. "Woods doubled the female representation and made significant contributions to the work of many Brookhaven researchers."
Now accepting nominations
Leona Woods Lectureship awardees will be selected twice a year. Nominees must be within seven years of earning their doctoral degree and have achievements in broadly defined areas of interest to the Brookhaven Lab Physics Department. These include astrophysics, cosmology, and experimental and theoretical nuclear and high-energy physics.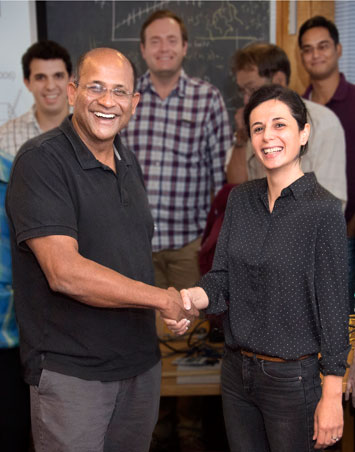 enlarge
Brookhaven Lab physicist Raju Venugopalan congratulates Elena Petreska of the Dutch National Institute for Subatomic Physics, who gave a talk in Physics on Friday, September 15, as part of her Leona Woods Distinguished Postdoctoral Lectureship Award.
The first honoree, Elena Petreska of the Dutch National Institute for Subatomic Physics (NIKHEF), gave a colloquium on September 12 outlining two complementary theoretical approaches for describing the distribution of quarks and gluons inside protons and atomic nuclei. She also gave a more technical seminar on the subject on September 15.
"Petreska's research has important implications for the scientific program envisioned at a possible future Electron-Ion Collider (EIC), so these talks were quite timely for those laying out a strategy for designing and building such a machine," said Brookhaven physicist Peter Steinberg, chair of the Leona Woods Lecture Committee.
Information about future Leona Woods Lectureship talks will be posted online. To submit nominations, please contact Peter Steinberg (Chair, Leona Woods Lecture Committee) or Sally Dawson (Chair, Physics Department Diversity Committee).
Brookhaven National Laboratory is supported by the Office of Science of the U.S. Department of Energy. The Office of Science is the single largest supporter of basic research in the physical sciences in the United States, and is working to address some of the most pressing challenges of our time. For more information, please visit science.energy.gov.
Follow @BrookhavenLab on Twitter or find us on Facebook.
2017-12510 | INT/EXT | Newsroom