Hispanic Heritage Club Awards Four Scholarships
June 10, 2009
At the annual Scholarship Awards ceremony and luncheon held by the BERA Hispanic Heritage Club (HHC) on Thursday, May 21, Lab Director Sam Aronson congratulated the four winners -- high school seniors Jypsy Calderon, Jose Malave, Liliana McWhirter, and Pablo Ortiz -- on their commitment and presented them with $500 scholarships. The four students had fulfilled the scholarship requirements by demonstrating academic excellence in science and/or mathematics studies. Other qualifications included submitting a required essay, being U.S. citizens or permanent residents with some degree of Hispanic ancestry, attending Bellport, Longwood, Patchogue-Medford, Riverhead, or William Floyd high schools, and being accepted by a college for fall 2009 courses.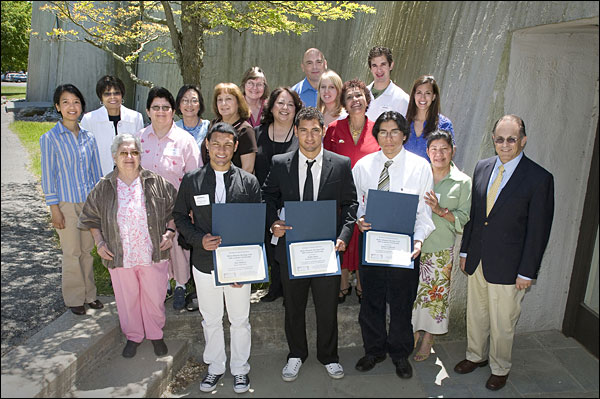 Shown with their certificates at the BNL Hispanic Heritage Club scholarship award ceremony are (from left) Jose Malave, Pablo Ortiz, and Jypsy Calderon, with Lab Director Sam Aronson (right), and officers and members of the club. Attendees also included Diversity Office Head Shirley Kendall (back, second from left), awardees' family members, and other BNLers. Not present for the photo was scholarship winner Liliana McWhirter.
The students' plans were varied: Flanders resident Calderon from Riverhead High School will attend Suffolk County Community College, hoping eventually to major in law; Bellport resident Malave from Bellport High School will major in biology at the University of Hawaii; Aquebogue resident McWhirter from Riverhead High School will attend the State University of New York at Plattsburg to major in childhood education; and Mastic Beach resident Ortiz from William Floyd High School will major in architecture and business adminstration at the New York Institute of Technology.
Part of the Brookhaven Employees Recreation Association (BERA,) the HHC was founded at BNL in 2001 and is committed to supporting the educational achievements of Hispanic students. The scholarships are funded by proceeds from ticket sales of past events sponsored by the HHC. For more information about the club, visit www.bnl.gov/bera/activities/hispanic.
2009-1278 | INT/EXT | Newsroom