Women in STEM Leadership Program — What We Learned, What Comes Next: Presentation, 7/24
July 16, 2018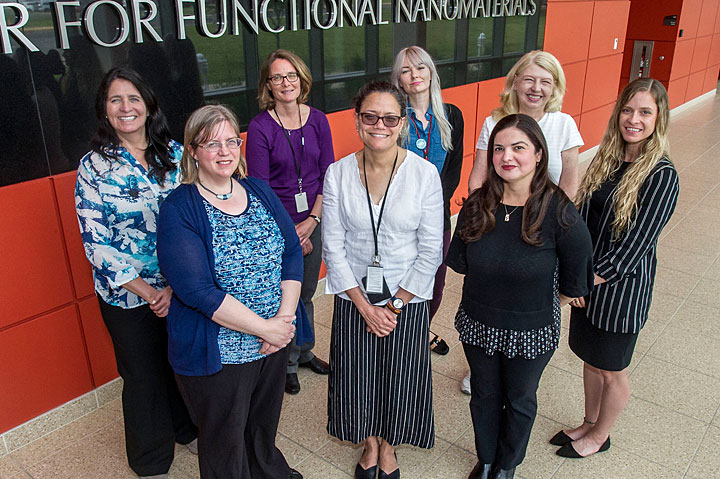 enlarge
Ivy Olberding, Laurie Gregory, Christie Nelson, Aleida Perez, Anna Goldberg, Firoza Zanoni, Lorraine Davis, and Kristen Rubino. Not pictured is Vivian Stojanoff.
Nine women from Brookhaven Lab—eight employees and one Lab contractor—attended Stony Brook University's (SBU) inaugural "Women in STEM Leadership Program" in May to study leadership techniques, build skills, and expand their professional networks. With their participation sponsored by the Director's Office, the Lab's Inclusion & Diversity Office, Stakeholder & Community Relations Office, and their managers and supervisors, Lorraine Davis, Anna Goldberg, Laurie Gregory, Christie Nelson, Ivy Olberding, Aleida Perez, Vivian Stojanoff, and Firoza Zanoni, along with contractor Kristen Rubino, who was sponsored by her employer P.W. Grosser Consulting, joined women from companies and organizations across Long Island and beyond at the intensive, three-day program, organized by Stony Brook's Center for Corporate Education.
On Tuesday, July 24, at noon in the Hamilton Seminar Room in Bldg. 555, these nine women will present on their experience and share important lessons learned. All Brookhaven Lab staff—women and men—are invited to attend. (Add to calendar)
"We all took away something transformational for each of us," said Davis, research space manager for the Center for Functional Nanomaterials. "We're going to support other women better through presentations, workshops, and networking."
The July 24 presentation will recap much of what they learned in the three-day program, but will also focus on influence, self-advocacy, the importance of building strong networks, and having a career vision. The program included lectures and workshops by leaders from business and academia, and experts in negotiation, implicit bias, and management structure. The curriculum also included role-playing sessions to help participants understand how the ideas could be put into practice in the real work environment.
"It wasn't just about women's issues, it was about STEM leadership," said Nelson, a lead beamline scientist at the National Synchrotron Light Source II. "And It wasn't just about helping women, it is about helping everyone at the organization."
A particular focus of the program, and what the nine BNLers will speak to on July 24, is the need to plug "the leaky pipeline" in an organization, where women are hired but then end up leaving because often they do not have the opportunity to grow in their roles.
"We need to do our part to stop those leaks," said Anna Goldberg, a radiochemist in the Collider-Accelerator Division and president-elect of Brookhaven Women in Science. "There's a high level of achievement, potential, and capability that's being lost when an organization isn't able to retain the women in its workforce."
The Lab will again provide tuition support to a limited selection of Brookhaven staff for the Women in STEM Leadership Program's fall and spring 2019 sessions. To learn more about the program and the application process, visit the Center for Corporate Education website. And contact the Lab's Inclusion & Diversity Office to learn how to be considered for tuition support.
2018-13017 | INT/EXT | Newsroom