Meet Raffaele Miceli: Using Math and Physics to Build Visualizations for Discovery Science
Internships in physics and computation helped him bring data to life and explore how quantum computing can accelerate the study of existing theories.
January 14, 2019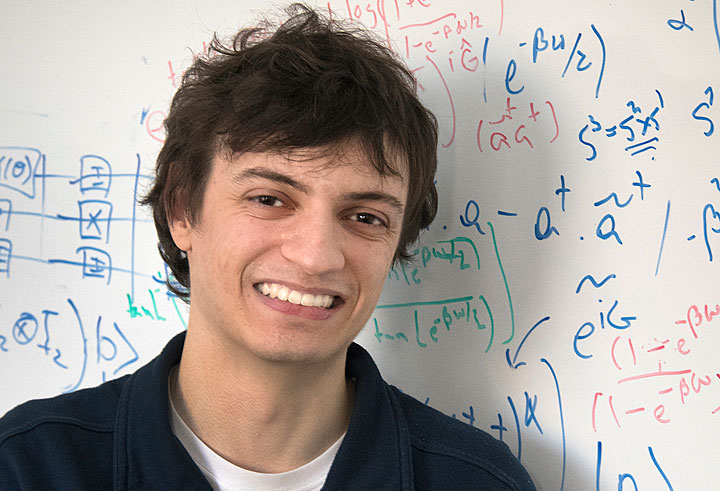 enlarge
During internships at Brookhaven Lab, Raffaele Miceli created data visualizations and explored applications for quantum computing.
Raffaele Miceli has been interning on and off at the U.S. Department of Energy's (DOE) Brookhaven National Laboratory over the course of nearly eight years, most recently tackling problems of quantum systems.
Under the supervision of his mentor, Michael McGuigan of the Computational Science Initiative (CSI), Miceli has been creating plots and figures to help communicate the results of complex calculations — a task called data visualization.
"I've been taking the results of calculations to plot them in ways that would elucidate new information," said Miceli, whose most recent project is part of the Office of Educational Program's Supplemental Undergraduate Research Program (SURP).
"Brookhaven exposed me to a variety of science and mathematics that you don't commonly find elsewhere."
— Raffaele Miceli
Specifically, he's created visualizations for what's known as Higgs potentials, complex equations that describe the way the Higgs boson might behave in a wide variety of interactions with other particles, or when influenced by different energy or temperature conditions. His colorful graphs help scientists locate points of interest to learn more information about the particle in a way that the complex calculations alone cannot reveal.
Lately, he's been taking on even more complex challenges.
"In the spring, I started getting involved in quantum computing, which is used to tackle problems that are too complex for classical computers," said Miceli. Quantum computers use "quantum bits" — qubits for short — to store and process information. Qubits are the units that make up a quantum system. They can be in more than one possible state at a time and have unique ways of interacting with each other. Quantum computers use these properties to execute calculations that take many possible states into account. Miceli has been researching how quantum computing can be used to accelerate the study of existing theories.
While Miceli is now thinking of pursuing a Ph.D., he first began doing research with Brookhaven back in 2011, when he decided to take a gap year after graduating from high school.
"I didn't feel very prepared for college, but I didn't want to spend a year doing nothing," he said. "So I decided to look to Brookhaven for opportunities and I found the High School Research Program (HSRP)."
After applying and being accepted to HSRP, he did research in the physics department with the Storage Ring Electric Dipole Moment (EDM) Collaboration. He spent spare time learning the coding language Python, which he then applied to making an animation for the project. "It was fun and it got my foot in the door with programming," Miceli said.
He stayed with the collaboration over the course of a second gap year before deciding to attend Stony Brook University, where he completed a double major in math and physics in fall 2017. During his undergraduate years, he interned two more summers at Brookhaven as an intern in the DOE Science Undergraduate Laboratory Internship Program (SULI), funded by the Office of Science, Office for Workforce Development for Teachers and Scientists — first in Brookhaven's physics department and then in CSI.
All these Brookhaven Lab internships have prepared him well to pursue a Ph.D. in math.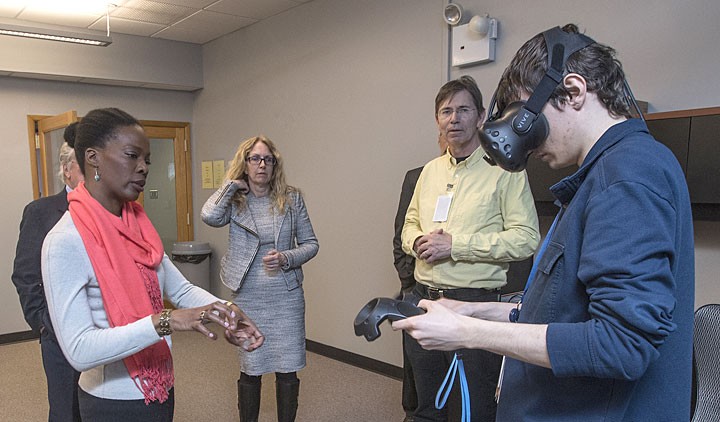 enlarge
Raffaele Miceli demonstrates a virtual reality visualization to Danah Alexander, a senior project manager with Empire State Development, as Kerstin Kleese van Dam, director of Brookhaven Lab's Computational Science Initiative (CSI), and mentor Mike McGuigan, also of CSI, look on.
"Being an all-purpose lab, Brookhaven exposed me to a variety of science and mathematics that you don't commonly find elsewhere," Miceli said. "This broader perspective is something that will inform the rest of my studies."
Brookhaven National Laboratory is supported by the Office of Science of the U.S. Department of Energy. The Office of Science is the single largest supporter of basic research in the physical sciences in the United States, and is working to address some of the most pressing challenges of our time. For more information, please visit science.energy.gov.
2019-13281 | INT/EXT | Newsroom