Swimming Across the Sound to Help Cancer Patients
August 17, 2009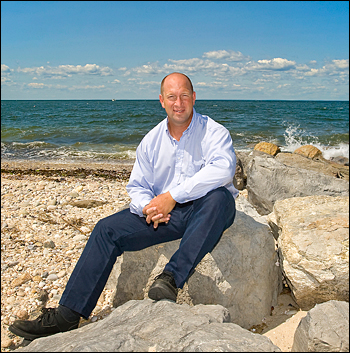 enlarge
John Gosman
At work, John Gosman has a challenging job. He is the lead mechanical engineer for conventional facilities at the National Synchrotron Light Source II, a 386,035 square-foot building that will house the world's brightest light when it is completed in 2015.
Gosman also tackles large, challenging projects in his leisure time. On Saturday, August 1, he swam 15-1/2 miles in 9 hours, 53 minutes, from Port Jefferson, New York, to Bridgeport, Connecticut in the 22nd Annual St. Vincent's SWIM Across the Sound marathon. In doing so, he raised $1,580 for St. Vincent's Medical Foundation, which provides cancer education, screening and prevention programs at low or no cost for the elderly and underserved. In addition, SWIM helps individual cancer patients with specific needs, such as the funding of wigs and prostheses, medication assistance, and transportation for treatments.
While 160 swimmers took the SWIM challenge, Gosman was one of only 15 solo swimmers to cross the Sound; the others were relay swimmers.
"It's feels great to have been a part of this," Gosman said. "I love swimming, but what makes it especially exhilarating is that it benefits a great cause."
Gosman lost several family members to cancer, and he was moved when a former college friend sent him a contribution for SWIM, saying he was currently battling cancer.
The SWIM marathon began in 1987 when Jeffrey Keith, who had lost part of his legs to cancer, swam across the Sound with his friend Matthew Vossler, raising $5,000 for cancer care. This year, the swimmers raised more than $350,000 in SWIM Across the Sound, and donations are still coming in.
A total of 85 boats escorted the swimmers, along with a number of law enforcement and Coast Guard boats. A captain, a first mate, an emergency medical technician and Gosman's wife were watching Gosman closely from the boat alongside him. "I wasn't allowed to touch the boat, but support was provided by my wife who tossed food and fluids to me about every four miles, then every two miles, and, towards the end of the swim, every mile," Gosman explained. "I needed to keep up my energy."
Growing up in Wading River, Gosman began swimming in the Sound as a very young child. As a student at Clarkson University, he was a member of the college swim team, focusing on 50-meter to 200-meter races. This year, Gosman became interested in long-distance open water swimming and began to intensify his training. On Memorial Day weekend, he started to train for the marathon every day, spending early mornings swimming in Wildwood Lake in Riverhead and evenings in the Sound. On weekends, he took his family to Hammonasset State Park in Connecticut, where he would meet with fellow long distance swimmers training for this event. Practice swims would range from 8 to 12 miles in the Sound.
Gosman also swims at the Lab pool, and he praised the BERA Swim Club as an excellent team who were very supportive of his marathon effort. Now that Gosman has accomplished this year's goal, he is set to start training for next year's marathon.
It's not too late to donate funds in support of John Gosman's efforts to contribute to caring for cancer patients. For more information, go to John's Personal Page.
Think you or one of your colleagues has a good story to tell? Email us! Although we can't write about everyone, we would love to hear your ideas and suggestions.
2009-1377 | INT/EXT | Newsroom