Dave Allshouse Named Labor Relations Manager
November 17, 2009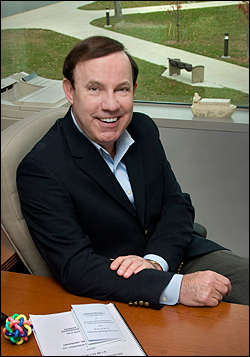 enlarge
Dave Allshouse
Dave Allshouse, formerly Director of Labor Relations at Merck & Co., Inc., has been named BNL's Labor Relations Manager, effective November 2.
In his new position as part of the Human Resources & Occupational Medicine Division, Allshouse is responsible for helping BNL develop a labor strategy, training of supervisors in labor relations and related areas, and negotiating and administering union contracts. Three unions represent a total of more than 400 employees at BNL: the International Brotherhood of Electrical Workers, the Suffolk County Security Police Association, and the United Steelworkers.
"I am excited to be part of the important work of the Laboratory, and I look forward to developing collaborative and productive working relationships with the union leadership here," Allshouse said.
Allshouse earned a B.A. in General Arts and Sciences from the Pennsylvania State University, a J.D. from the University of Pittsburgh School of Law, and an advanced labor law degree, LL.M., from the Georgetown University Law Center.
At the start of his career, Allshouse worked as a litigator for the Pennsylvania Attorney General's Office and as a labor and employment attorney in the Labor Section of Morgan Lewis and Bockius, a large law firm in Harrisburg, PA. He then joined Stroehmann Bakeries in Horsham, PA, a baking and distribution company with 50 locations and 5,000 employees, where he worked as Vice President, Human Resources and Law. From 1996 to 2003, Allshouse worked in labor relations and as labor counsel for Penske Truck Leasing in Reading, PA, a global transportation services company with 20,000 employees and 150 labor contracts. In 2003, he became Director of Labor and Employment for C&D Technologies, Inc., a company based in Blue Bell, PA, that manufactures electrical storage and power conversion products.
In 2006, Allshouse joined Merck & Co. in West Point, PA, as Director of Labor Relations, a position he held for three years before joining BNL. At Merck, a pharmaceutical manufacturing and research company with over 60,000 employees, Allshouse managed all labor relations issues at a site with four labor contracts and 2,400 union employees.
2009-1499 | INT/EXT | Newsroom