Meet Brookhaven Science Associates' 2019 College Scholarship Awardees
May 9, 2019
Brookhaven Science Associates (BSA), the organization that manages Brookhaven Lab for the U.S. Department of Energy through a partnership between Battelle and Stony Brook University, has announced the 2019 BSA Scholarship awardees. These annual scholarships are awarded to children of employees at the Lab—a longstanding tradition that began at Brookhaven in 1965.
"From the nanoscale to the global scale and beyond, the challenges we face as a society continue to grow and become more complex," said Samuel L. Stanley Jr., MD, President of Stony Brook University and BSA Chair. "By pursuing higher education, these remarkable students are positioning themselves to find solutions to these challenges. On behalf of Brookhaven Science Associates, I congratulate these scholars and their parents. BSA is proud to help them reach their full potential."
Brookhaven Lab Director and BSA President Doon Gibbs said, "BSA is honored to recognize and congratulate these students as they take their next steps toward college and the future. It's an exciting time for them and their families. Congratulations to them all."
Each BSA scholar is a high school senior who will receive $2,500 per year for up to four years of study at the college or university of his or her choice. BSA scholars who are admitted and enroll as full-time students at Stony Brook University in the fall of 2019 will receive a matching scholarship from the university, according to Stanley.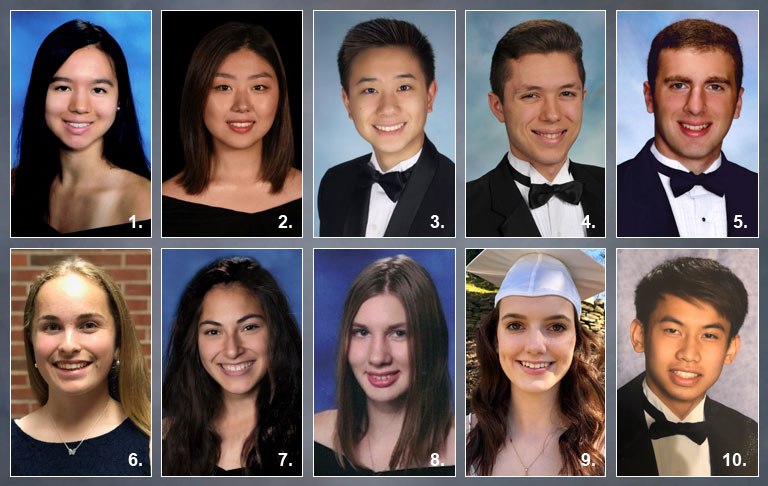 1. Dara Berman, who lives in Setauket and will soon graduate from Ward Melville High School, is the daughter of Lonny Berman of the National Synchrotron Light Source II. Dara will attend Cornell University, major in applied economics, and is working toward a career as a medical doctor or economist.
2. Ju Eun Ha, daughter of Kiman Ha in the Photon Science Division, lives in Port Jefferson and attends Earl L. Vandermeulen High School. She will major in biomedical engineering at Boston University to become a medical practitioner.
3. Bryant Liu lives in Rocky Point, attends Rocky Point High School, and is the son of Chang-Jun Liu in the Biology Department. He has not yet determined which school he will attend but intends to major in business and economics for a career in business.
4. Frank Mastroianni, a Commack resident and senior at Commack High School, is the son of Nancy Mastroianni, who works in the Human Resources Directorate. Frank will major in political science and international relations at Northeastern University for a career in law and government policy.
5. Nicholas Morello lives in Manorville, attends Eastport-South Manor Junior-Senior High School. His mother, Lisa Morello, works for the Business Services Directorate in the Facilities & Operations Business Office. His grandmother Eileen Morello, works at the National Synchrotron Light Source II. Nicholas will attend Binghamton University School of Management to major in economics and finance.
6. Allison Nemesure, daughter of Seth Nemesure in the Collider-Accelerator Department (C-AD), lives in East Setauket and goes to Ward Melville High School. She will attend the University of Connecticut to major in physiology and neurobiology, participating in a bachelor's-M.D. program for a career in the medical field.
7. Maya Peña-Lobel, who lives in Setauket and attends Ward Melville High School, is the daughter of Louis Peña of C-AD. She will attend Harvard University for a career in environmental science.
8. Julia Petreczky of Shoreham attends Shoreham-Wading River High School and is the daughter of Peter Petreczky in the Physics Department. She will major in biochemistry at Stony Brook University for a career in research.
9. Brooke Regan, a senior at St. Dominic High School and resident of East Norwich, is the daughter of Thomas Regan in the Counterintelligence Office. She will attend SUNY Oneonta to major in biology for a career in occupational therapy.
10. Kevin Xu, son of Zhangbu Xu of the Physics Department, lives in East Setauket and attends Ward Melville High School. Kevin will attend the University of Pennsylvania to major in chemical engineering for a career in renewable energy research and development.
2019-15529 | INT/EXT | Newsroom