Capturing Images of Life on Brookhaven's Wild Side
In his off hours, Rodger Hubbard from NSLS-II's Accelerator Division captures breathtaking photos of wildlife he spots on site
April 24, 2020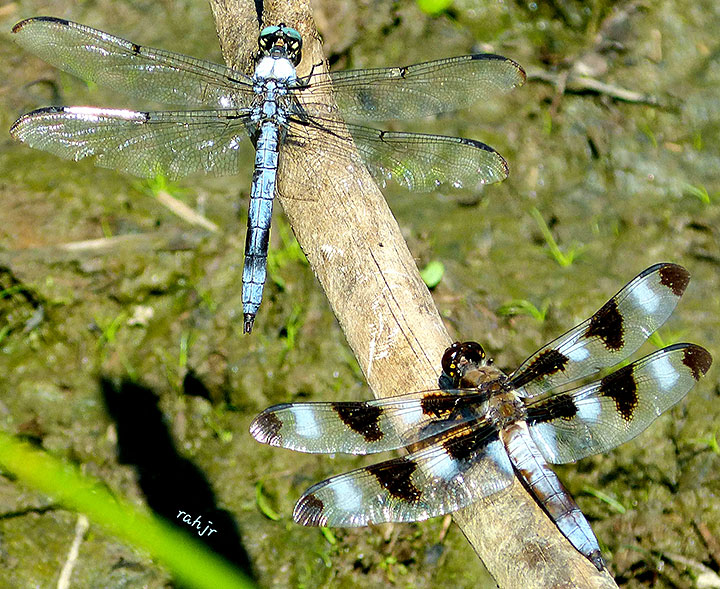 The 5,321-acre campus of the U.S. Department of Energy's Brookhaven National Laboratory is well known to be the home of scientific user facilities such as the Relativistic Heavy Ion Collider (RHIC) and National Synchrotron Light Source-II (NSLS-II). But the site also makes up about five percent of Long Island's Central Pine Barrens region and is within the watershed of one of Long Island's four major rivers, the Peconic. According to Tim Green, Natural Resources Manager for the Lab, the undeveloped woodlands, grasslands, and wetland habitats on the Lab's property support more than 350 plant and 33 mammalian species; approximately 85 species of nesting birds have been observed here. This gives Rodger Hubbard, whose day job involves surveying and aligning components in the NSLS-II Accelerator Division, plenty of subjects to capture in stunning photographs during his off hours.
"It's just a calming thing to do," Hubbard said of his wildlife photography hobby. "In my job, I do a lot of measuring. It gets to where I don't want to be sitting in front of the computer at lunchtime, surfing the web or whatever. So, I just get out and get some fresh air and see if I can see something. And there's plenty of wildlife on site."
Because of the Lab's location within the Atlantic Flyway, more than 200 migratory bird species have been documented as visiting the site. Peregrine falcons, red-tailed hawks, and great horned owls are just a few of the creatures Hubbard has snapped, as well as wild turkeys, some of Brookhaven's permanent residents.
"I've always been a nature lover," said Hubbard, who shares his photos on social media. "I live in Hampton Bays, so I have access to Shinnecock Bay, Peconic Bay, and all the little estuaries in and around that area. When you're trying to take pictures, you're not thinking about anything else. It's just a way to escape a little bit."
Photography has always been a hobby, but Hubbard began taking pictures of wildlife around the Lab around five years ago. His images are not the product of an expensive camera and extravagant lenses. He uses a Panasonic Lumix, a point-and-shoot digital camera with an optic zoom.
"What's good about this camera is it's always on the front seat of my truck," he said. "I just have my eyes peeled. I'm on the east side of NSLS-II, which gives me pretty quick access to the back roads that go past the weather station," a favorite spot for animals at the very end of Brookhaven Avenue.
"Down there, there's a wild apple tree, a crab apple or something like that, that blooms in the spring," Hubbard said. "It supports a lot of bugs, hummingbirds, warblers, and all kinds of wildlife. And there's a low area that's basically a puddle, and a lot of birds come in during the day to take a drink and bathe."
Other wetlands on site, including marshes, ponds, and retention basins, have been found to host 14 amphibious and 15 reptilian species, natural resources reports have noted. The site has also proven to be a haven for the New York State endangered eastern tiger salamander, as ecological studies have confirmed 26 breeding locations on campus.
Because Laboratory identification is required for entrance to the Lab's site, not many know about the variety of wildlife that thrives here, Hubbard said.
"Nobody else can come on-site," he said. "So, in a way, I feel like it's kind of mine."
Of course, Hubbard is just one of many employees who enjoy photographing the scenery at the Lab—you can be one too, onsite when you are at the Lab or in your own neighborhood, if you know where to look.
NSLS-II is a DOE Office of Science User Facility.
Brookhaven National Laboratory is supported by the U.S. Department of Energy's Office of Science. The Office of Science is the single largest supporter of basic research in the physical sciences in the United States and is working to address some of the most pressing challenges of our time. For more information, visit https://energy.gov/science.
Follow @BrookhavenLab on Twitter or find us on Facebook.
2020-17165 | INT/EXT | Newsroom