Climate Change, Clean Energy Define NSLS CFN Users' Meeting
June 4, 2010
Highlighting the "remarkable synergy" between Brookhaven's National Synchrotron Light Source (NSLS) and Center for Functional Nanomaterials (CFN), government, Laboratory, and science leaders made an urgent call for the development of efficient and effective clean energy technologies at the annual meeting of the facilities' user communities. About 500 visiting scientists, staff members, and funding representatives gathered at Brookhaven on May 24-26 for the joint meeting, which emphasized climate change and the tools scientists are using to combat it.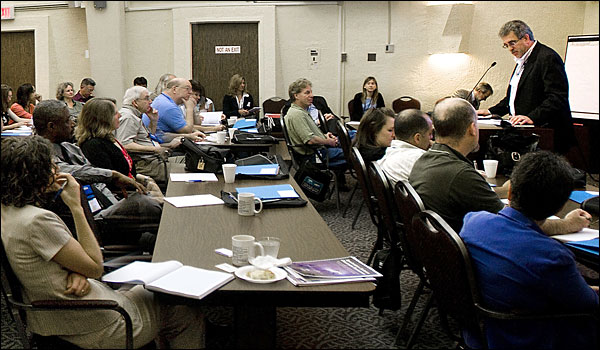 One of the meeting's eight workshops, Bringing Big Science into the Classroom, gathered about 50 local teachers to learn about the NSLS and CFN.
"We have to do something," said William Brinkman, director of DOE's Office of Science, about climate change. "The worst part is that if we really believe the predictions, we have a gigantic job ahead of us."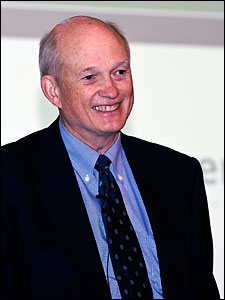 William Brinkman, director of the U.S. Department of Energy's Office of Science
Brinkman spelled it out clearly: To keep the Earth's temperature from increasing more than a couple degrees, yearly carbon emissions must be reduced by a factor of eight in the next 40 years.
"We are not heading in that direction," he said, adding that we waste about 58 percent of the energy we produce through sources like coal, oil, and natural gas. "We are not moving nearly fast enough."
Progress is being made, he said, but there are still difficult challenges in numerous alternative energy avenues, including solar photovoltaics, advanced fusion and fission energy, carbon capture and sequestration, biofuels, electric energy storage, and battery and energy storage technologies.
The need for research in these areas is reflected in President Obama's fiscal year (FY) 2011 budget request, Brinkman said. If approved by Congress, funding for the Office of Science would increase by 6.1 percent, including a more than 12 percent increase for the Office of Basic Energy Sciences.
Funding the Hubs for Energy Research
Harriet Kung, Director of the U.S. Department of Energy's (DOE) Office of Basic Energy Sciences (BES), gave further details on the FY 2011 budget for BES and its implications for Brookhaven. If approved, the $1.853 million request would provide optimal support for BES's five light sources, three neutron sources, and five nanocenters, as well as a number of construction projects, including the National Synchrotron Light Source II (NSLS-II).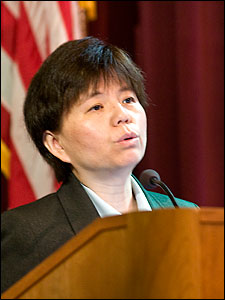 Harriet Kung, director of DOE's Office of Basic Energy Sciences
"This sends a very strong message as to the importance of the field that we represent and the contribution this community can make toward the department's central mission," Kung said.
The budget also will allow BES to expand two new funding avenues: energy research frontier centers (EFRCs) and energy innovation hubs. Receiving $2 to 5 million per year for up to five years, 46 EFRCs were selected in 2009 to perform "use-inspired basic research." In FY 2011, Kung said, BES plans to award about $40 million to new EFRCs. The larger energy innovation hubs, which receive $25 million per year for five years, are meant to enable transformational energy applications. The first one was established this year to investigate the production of fuels from sunlight. A second hub, centered on energy storage and batteries, will be awarded in FY 2011, Kung said.
In addition, new awards for individual and small groups will be given in two research areas: discovery and development of new materials and research for energy applications.
"Almost all of the clean energy technologies we have today are really far from achieving their full potential," Kung said. "What's limiting them is not engineering skills, it's fundamental knowledge."
NSLS-II: On the Fast Track
In addition to lacking fundamental knowledge, our inability to image materials on a small-enough and sharp-enough scale also limits our quest for better energy technologies, said Steve Dierker, Associate Laboratory Director for Light Sources and NSLS-II Project Director.
Steve Dierker, Associate Laboratory Director for Light Sources and NSLS-II Project Director
"You can think of NSLS-II as a powerful new photon microscope that will allow us to peer into the nano world," he said, adding that the new machine's extremely high brightness and advanced optics will offer some of the best capabilities out there.
Construction is quickly progressing on the $912 million facility, thanks in part to $150 million in American Recovery and Reinvestment Act (ARRA) funding awarded in 2009. The giant ring — half a mile in circumference — is now taking shape and overall, 30 percent of the construction work is complete. By next spring, the number of construction workers on site will double to 400. At this rate, Dierker said, the project will be ready for beam by February 2014 — 16 months ahead of schedule.
With the approach of the transition to the new facility comes a new user access policy, which will be implemented at the NSLS as soon as possible, Dierker said. The policy will be centered on general users, who will receive about 80 percent of available beam time. The other 20 percent will be shared between partner users and local beamline staff.
"Putting this in place now will help upgrade support mechanisms and help us be better able to take advantage of NSLS-II when it first goes online," Dierker said, adding that the policy is in draft form until the Science Advisory Committee reviews it this summer.
With potential funding coming from BES, DOE Office of Biological and Environmental Research, and the National Institutes of Health, Dierker expects 10 beamlines to be available for users when the facility starts, and possibly, up to 37 beamlines by FY 2016. "That would be pretty remarkable progress," he said. "Historically, on average, facilities have taken about seven years to build out 40 beamlines. Our goal is 37 within two years. That's three to eight times faster than any other facility has achieved."
"This is an incredibly exciting time for BNL and photon science," Dierker said.
CFN: Three Years of Growth
It's also a very exciting time for the CFN, which first opened its doors three years ago and was ready for full operations just about two years ago. CFN Director Emilio Mendez used one word to describe it: growth.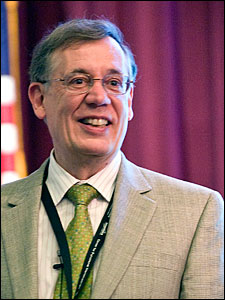 CFN Director Emilio Mendez
Since FY 2008, the CFN's budget has jumped about $3 million to $20.7 million; its staff members have grown from 39 to 51; and its user count has doubled to more than 200. There's still room for growth down the road: the "magic number" of users for the facility is about 300, Mendez said, and key staff positions, such as the associate director, are yet to be filled. Other challenges include hiring a diverse workforce, engaging small industries, and transferring research to technology programs.
Overall, it's a very positive climate for energy sciences, Mendez said. In addition to receiving great support from DOE, the CFN has formed ties with other departments within Brookhaven as well as with Stony Brook University, and through the EFRC program, with Columbia University and the Massachusetts Institute of Technology.
In 2008-09, CFN staff published more than 70 papers in high-impact journals and applied for seven patents, Mendez said. This research includes groundbreaking studies on epitaxially grown graphene, materials for water splitting, and DNA-guided self-assembly of nanoparticles. The facility is in the process of installing several new pieces of equipment such as a transmission electron microscope for soft materials, a reactive ion etcher for metals, and an analytical scanning transmission microscope. The CFN also is upgrading tools that are essential to users, including an advanced electron beam lithography system and a "workhorse" transmission electron microscope.
Mendez asked for one favor from users: be louder. Only about 15 percent of users turn in feedback forms after their visit to CFN, he said.
"This is not representative of the entire community," he said. "We need engagement. It's important for us to know both what we do well and also what we didn't do well. Don't be shy."
NSLS: A Nobel Year
NSLS Director Chi-Chang Kao thanked the "large and vibrant" user community and staff for a productive year of research and operations. The number of users stayed steady at about 2,200 in 2009, even as the number of running beamlines decreased to 62. Those users produced more than 900 publications and benefited from greater than 95 percent reliability on both the X-ray and Vacuum Ultraviolet/Infrared rings. "It's like a bottle of wine, it gets better as it ages," Kao said.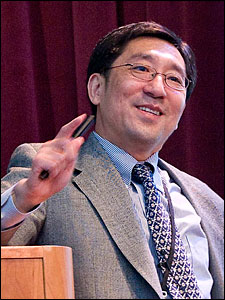 NSLS Chair Chi-Chang Kao
In FY 2010, the NSLS received about $39 million, which, in addition to supporting routine operations, is being used to replace the deteriorating dunnage that supports the cooling tower, buy spare klystrons and magnet coils to keep the facility running through 2015, and construct beamline X17A. ARRA funds supported two projects -- construction of a full-field x-ray microscope and acquisition of six advanced x-ray detectors.
One of the crowning moments of the last year, Kao said, was the announcement of the Nobel Prize in Chemistry. Venkatraman Ramakrishnan, of the Medical Research Council Laboratory of Molecular Biology in Cambridge, UK, a former employee in Brookhaven's biology department and a longtime user of the NSLS, and Thomas A. Steitz of Yale University, also a longtime NSLS user, shared the prize with Ada E. Yonath of the Weizmann Institute of Science. They used the NSLS and other synchrotron sources to produce atomic-level images that helped reveal the inner workings of the ribosome.
NSLS staff members have worked on many fronts in the past year, including hosting the inaugural small angle x-ray scattering/wide angle x-ray scattering workbench, creating a new program that grants high school teachers and students access to beamlines, and assisting with a synchrotron course at Stony Brook. In addition, the NSLS has made large efforts to engage industrial users by forming an advisory committee, creating a special website, increasing the availability of beam time to industrial researchers, and expanding the use of remote access.
At the NSLS Source Development Laboratory, Kao said, researchers continue to prepare for the long-term future of photon science at Brookhaven by exploring the physics and science of free-electron lasers.
"We want the user community to start working with us on all aspects of this work," he said.
2010-1836 | INT/EXT | Newsroom