A Field Trip For the BNL-Longwood Mentoring Program
July 14, 2010
At the end of this school year, 11 students in the Longwood School District weren't just looking forward to finishing classes; they had a bonus treat to anticipate. On June 3, these young participants in the BNL-Longwood mentoring program piled onto a bus to the Long Island Game Farm with their mentors, 13 BNL employees.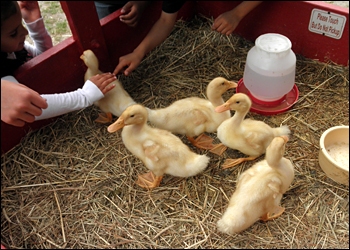 Longwood students get hands-on with some of the youngest and fuzziest residents of the Long Island Game Farm.
Founded in 1995, the BNL-Longwood mentoring program was modeled after Matilda Cuomo's national initiative, Mentoring USA. As in that program, Longwood school coordinators match BNL volunteers with elementary school students who could use extra attention.
"Anyone can apply to become a mentor," explained Omar Gould, who joined the program about a year after its establishment. "Then, we try to find the fit that's most appropriate given the needs of the student."
After BNL employees volunteer for the program, Longwood coordinators screen them before making a compatible match. These matches tend to work very well; in fact, some BNL staff members maintain their relationships with their mentees for years, from elementary school through junior high. Currently, the involved schools are Charles E. Walters Elementary School, Ridge Elementary School, Longwood Middle School, and Longwood Junior High School.
The mentors visit their students at least once a week, usually during the lunch hour. In each session, mentors help their students with homework and academic concepts, or take a break to just sit and talk.
"The kids just want to get away from school, to talk or play games," said Michael Villaran, another BNL volunteer. "We try to keep it not so intense. They need to relax, and they need someone to give them continuity in their lives."
Part of that relaxation comes in the form of an annual field trip to mark the end of the school year. Either the Lab's Community Relations Office will fund the outing, or the school will pay for a smaller trip to a location within the Longwood district. This year, BNL helped support a trip to the Long Island Game Farm, a combination park and zoo in Manorville, NY.
At the Game Farm, students were able to pet deer and goats, feed zebra and giraffes, and watch the more dangerous animals -- like cougars and alligators -- from a safe distance. They even attended a dog show.
"The students enjoyed it," said Gould. "They appreciated coming into closer contact with animals, as opposed to seeing them on TV or in pictures."
Although Peter Soo, the program's founder, used to arrange the trips and act as administrator, he recently retired and was unable to fit these duties into his schedule. Now six mentors, including Gould and Villaran, share the responsibilities of finding field trip destinations and funding, and coordinating with the administration at the Longwood schools.
"The bottom line is, everyone pitched in," said Villaran. Despite the extra work involved, he finds being a mentor well worth his time.
"It's pretty rewarding," he said. "Sometimes you're the most stable thing some of the kids have. You're helping them more than you know."
Any members of the BNL community interested in volunteering as a mentor should e-mail Omar Gould at ogould@bnl.gov, or call him at extension number x2656.
2010-1879 | INT/EXT | Newsroom