Scholarship Jumpstarts an Intern's Career
July 12, 2010
Kenneth Baumann is one of many interns working at Brookhaven National Lab this summer. But unlike most of his peers, Baumann has been connected to BNL for years. He grew up in nearby East Yaphank, always aware of the Lab's research mission. But it wasn't until his senior year at Longwood High School that Baumann forged a personal connection with BNL.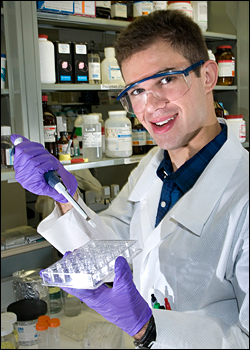 Kenneth Baumann
In 2007, the Hispanic Heritage Club (HHC), a Brookhaven Employees Recreation Association (BERA) group, awarded academic scholarships to Baumann and two other Long Island high school seniors.
Baumann used the money to help fund his freshman year at SUNY Binghamton, majoring in engineering. However, at the end of the year, he switched to a new field: biology.
Baumann doesn't see the change as too much of a leap.
"I've always liked to know how things work, so at first I learned about that through engineering, and now I get a different perspective through biology," he said.
At the end of the semester, Baumann was invited to talk to recipients of the 2009 HHC scholarship. While at the ceremony, he met Lab Director Sam Aronson. Upon hearing about Baumann's love of biology and desire for an internship, Aronson referred Baumann to Diversity Office Manager Shirley Kendall. Kendall and Baumann discussed his scientific and internship interests, and Kendall requested he forward her a resume and school transcript. Two weeks later, Principal Human Resource Representative Terrence Buck offered Baumann an internship in the Biology Department.
"I don't know how it worked out, but I'm so glad it did," said Baumann. "I guess I got lucky."
Kendall would probably disagree with Baumann's suggestion of serendipity. According to her, "This is exactly the type of teamwork which allows BNL to attract talent for the future. The HHC identified the talent, and Dr. Aronson was present to meet him and guide him to the Diversity Office, where Kenneth met the requirements to intern as a science and engineering student."
Because of Diversity Office funding, Baumann spent last summer working in structural genomics.
"We take proteins in their raw forms and get them to turn into crystals," explained Baumann.
Then, the crystallized proteins can be imaged at the National Synchrotron Light Source (NSLS) using x-ray crystallography. In this technique, an x-ray beam hits an object and diffracts into multiple beams, which are used to reconstruct a three-dimensional image of the object's atomic structure.
Now, one year later, Baumann is spending his second summer at the Lab. This time around, he is working on protein expression and purification.
"My project is to harvest a protein from a bacteria, and get it in its purest form," he said.
Taking on a different area of research this year fulfills Baumann's desire to study a broad range of biological fields, but BNL has provided Baumann with more than research experience.
"At the end of high school, I had no idea what I wanted to do with my life," said Baumann.
His experience working at BNL made it clear that biology research could be a career.
"It opened up an avenue I'd never thought of," he said. "If I was given the opportunity, I would love to work here full time."
Baumann expressed gratitude to the HHC and Diversity Office initiatives that inspired him to pursue research.
"Thanks for the scholarship, which jump started my academic career, and the invitation in 2009, which started me along my career path," he said. "Thanks to Sam Aronson, Shirley Kendall, Terrence Buck, and my mentors Dr. Kumaran and Dr. Swaminathan — everyone here who helped me out. And thanks to the Biology Department for taking me back for a second year."
Baumann plans to pursue a graduate degree in biology at a SUNY institution, either Binghamton or Stony Brook. But for now, he's living in the moment.
As Baumann said, "It's just a thrill to be here."
2010-1880 | INT/EXT | Newsroom