Lights Off!
The HFBR goes into hibernation
August 26, 2010
This week, the doors to the High Flux Beam Reactor (HFBR) were closed and locked. They'll remain that way for up to 65 years, until radiation levels in the large components (reactor vessel and internals, thermal and biological shields) naturally decay to a point where the reactor may be removed safely. With support from the U.S. Department of Energy (DOE) and federal, state, and local regulatory agencies, and input from the Lab's Community Advisory Council, the Lab has made significant progress in cleanup of the HFBR, removing contaminated ancillary structures, underground pipes and ducts, control rod blades, and beam plugs, and putting the facility in a stable state for its hibernation. The DOE Office of Environmental Management provided American Recovery and Reinvestment Act (ARRA) funding to complete these near-term cleanup actions by September 2011, well ahead of the 2020 plan.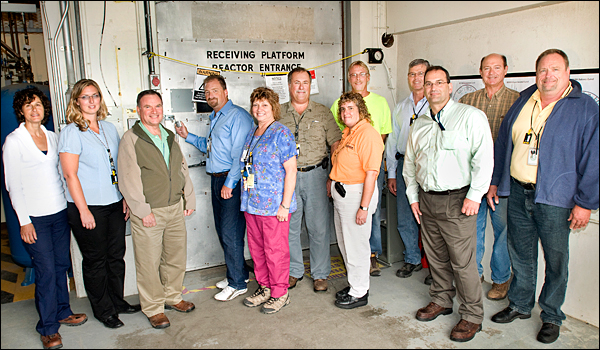 HFBR Project Team
Lab Director Sam Aronson said, "I'd like to recognize Chuck Armitage and his team for their hard work and commitment to safety within a strict timeframe. This is a major environmental remediation milestone for the Laboratory."
According to Chuck Armitage, the project team leader, "The door is locked, the lights inside the HFBR are off, and the facility is permanently shut down. It was a good deal of work preparing the facility for closure and I appreciate the hard work and commitment of the team. The Lab will monitor the HFBR regularly to be certain it stays in a safe state and the environment is protected."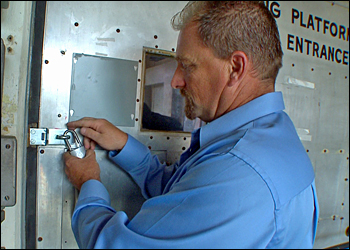 Lou Evers, a member of the HFBR project team, places a lock on the HFBR door
The HFBR operated from 1965 to 1996 and was used solely for scientific research. During this 30-year period, the HFBR was one of the world's premier research reactors, providing neutrons for materials science, chemistry, biology, and physics experiments.
Lou Evers, a reactor operator who worked at the HFBR for twenty years and was part of the decommissioning team, said, "While this is a huge environmental remediation accomplishment, I am still saddened to see the HFBR close. I am proud to be part of the team that operated the reactor and now part of the team that put it in its final state of hibernation. For me, it's an era of science that will never be forgotten."
More information about the decommissioning can be found at the Environmental Restoration Projects website.
2010-1966 | INT/EXT | Newsroom