Brookhaven Lab Selected as Honorable Mention Recipient of the Sloan Award
November 17, 2010
BNL was selected as an honorable mention recipient of the 2010 Alfred P. Sloan Award for Business Excellence in Workplace Flexibility on Long Island. The award recognizes local employers who successfully use workplace flexibility to meet both organizational and employee goals.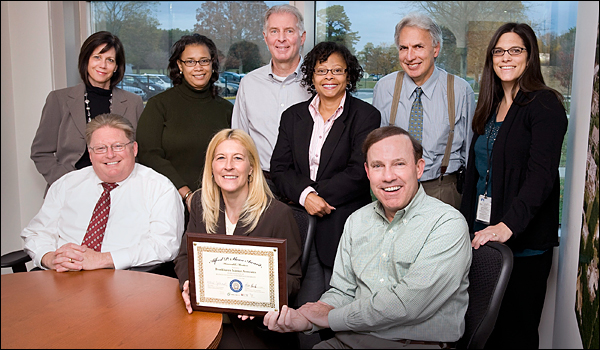 Part of BNL's Human Resources and Occupational Medicine Division who design and deliver employee programs that enabled the Lab to receive the Sloan Award are (from left, seated) Bob Lincoln, Denise NiMeglio, Dave Allshouse, and (standing, from left) Nancy Sobrito, Leesa Allen, Bob Kelly, Shirley Kendall, Joe Falco, and Joanna Hall.
Denise DiMeglio, benefits manager in Human Resources, accepted the award on behalf of the Lab from the local award sponsor, the National Association of Mothers' Centers, at the 15th Annual Work/Life Conference held at Crest Hollow Country Club in Woodbury, Long Island on November 5.
Eight companies were Sloan Award winners this year, and BNL was one of an additional three Long Island businesses that received honorable mention. This is the second consecutive year that the Laboratory has won a Sloan Award.
"Brookhaven Lab recognizes the importance of balancing work and family life, and we offer benefits and flexible work options to our staff that enable them to fulfill their responsibilities in both areas," DiMeglio said. "We are open to ideas for improving workplace policies to meet employees' needs while sustaining productivity."
Flexible schedules and telecommuting options are available to Lab employees with supervisory approval. Additional programs to support and encourage a balance of work and family include an on-site Child Development Center that provides day care for infants and preschool children of employees, and an on-site summer camp is open to children in the BNL community.
Employee benefits include an adoption assistance program, an on-site employee assistance program, wellness programs, a scholarship program for employees' children, a tuition assistance program for employees, and numerous on-site recreation programs, including on-site exercise facilities, tennis courts, and an Olympic-size swimming pool.
Particularly important during the last few years of the recession have been BNL's on-site free financial counseling and retirement planning by qualified financial advisors, financial help for employees who are first-time home buyers, and on-the-job opportunities to help others in the community, including giving to the United Way, a food drive, a pet supplies drive, a school supplies drive, a blood drive, and the Adopt-a-Platoon program.
The Sloan Awards are sponsored by the When Work Works project, an initiative of the Families and Work Institute, a nonprofit, nonpartisan research organization that studies the changing workforce, family and community; the Institute for a Competitive Workforce, an affiliate of the U.S. Chamber of Commerce; and the Twiga Foundation, which promotes family consciousness at home, in the workplace and in the community.
Applicants for the awards were evaluated in a rigorous two-step process, first comparing the employer's application to nationally representative data from the Families and Work Institute's National Study of Employers. If the applicant places in the top 20 percent — at or above the eightieth percentile of employers nationally — the institute proceeds to the next step, an employee survey to corroborate the employer responses.
2010-2114 | INT/EXT | Newsroom