467th Brookhaven Lecture Featuring Ketevi Assamagan
March 16, 2011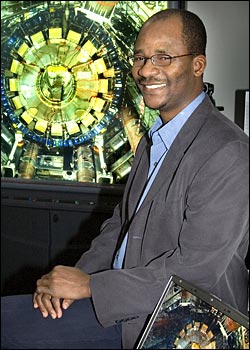 Ketevi Assamagan
The Large Hadron Collider (LHC) at CERN, the European particle physics laboratory near Geneva, Switzerland, is the world's largest particle accelerator, built to help answer many of the most fundamental questions in physics. One of its seven detectors is ATLAS, an enormous experiment built with significant contributions from BNL. ATLAS's main goal is to find a particle called Higgs, which may be the source of mass for all matter. Thousands of scientists and engineers from over 100 countries and hundreds of universities and laboratories work at the LHC.
Among the countries becoming members of LHC experiments was South Africa, which joined the ALICE experiment in 2001. Then, during August 2010, in Stellenbosch, South Africa, the first African School of Physics held classes on fundamental physics and its applications. Students were selected from all over Africa and beyond. Although many were pursuing or had completed physics degrees, they lacked opportunities to gain specialized knowledge in subatomic physics.
The school was funded by institutes in Africa, Europe, and the USA, and scientists from these areas were invited to lecture on proposed topics. Among these lecture topics was the ATLAS experiment at the LHC, and among the invited lecturers was Ketevi Assamagan, a physicist in BNL's Physics Department who works on ATLAS.
To discuss the latest happenings at the LHC and ATLAS, and how African institutes' participation in research at the LHC relates to the goals of the African School of Physics, Assamagan will give the 467th Brookhaven Lecture on Wednesday, March 16. The talk, titled "Experimental Particle Physics in the LHC Era and Possible Implications for Development in Africa," will begin at 4 p.m. in Berkner Hall. All are welcome to this free event, which is open to the public. Refreshments will be offered before and after the talk. Visitors to the Lab 16 and older must carry a photo ID.
During his talk, Assamagan will describe, as he did in Africa, the LHC and ATLAS and BNL's role in this experiment. As a member of the international organizing committee for the African School of Physics, he will also explain how the school's basic aim — to help improve the quality and availability of higher education in Africa — is achieved by having scientists talk about the excitement of research to the students, inspiring them to teach others upon returning to their home institutions. The founders of the school believe that training in fundamental physics could help students achieve careers in industry or education, as well as in basic research.
Assamagan, who was born in Gabon, Central Africa, and grew up in Togo, West Africa, earned his Ph.D. in physics from the University of Virginia in Charlottesville in 1995. He joined BNL in July 2001.
To join Assamagan for dinner at a restaurant off site after the talk, contact Linda Feierabend, or Ext. 4887.
2011-2274 | INT/EXT | Newsroom