469th Brookhaven Lecture Featuring Andy Vogelmann
The Skinny on Thin Clouds
May 18, 2011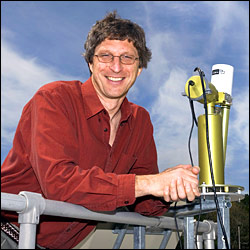 Andy Vogelmann
Forget about whether you prefer the Mets or the Yankees. If you wanted to make an educated guess about who will win when the two teams play later this week, you would need to see some data, right? You'd at least want pitchers' earned run averages and batters' batting averages.
Just as you would need data to hypothesize which baseball team is more likely to win, climate scientists need lots of data — including how much of the sun's energy is blocked or captured by clouds in the atmosphere — to assess how things like carbon emissions may affect Earth's climate. Scientists are constantly collecting new data to construct and improve complex climate models to make projections of what Earth's climate will be like in the future. And that's not a bet to get wrong.
On Wednesday, May 18, join Andy Vogelmann of BNL's Environmental Sciences Department for the 469th Brookhaven Lecture, titled "The Skinny on Thin Clouds." All are invited to attend this free talk, which is open to the public and will be held in Berkner Hall at 4 p.m. Refreshments will be offered before and after the lecture. Visitors to the Lab ages 16 and older must carry a photo ID while on site.
To join Vogelmann for dinner at an off-site restaurant following the talk, contact Adrienne Jerry, Ext. 7525, ajerry@bnl.gov.
Vogelmann will begin his talk by discussing the role that clouds — thin clouds, in particular — play in Earth's energy budget as the sun's rays enter and exit the atmosphere. He will then explain how scientists are working from both the ground and the air to understand better how clouds affect Earth's climate, and why that understanding is necessary to develop more accurate climate models.
Vogelmann earned a Ph.D. in meteorology from Pennsylvania State University in 1994 and worked on climate observations and modeling as a postdoc at the University of Arizona from 1994 until 1995. In 1995, he went to Scripps Institution of Oceanography, where he continued his research first at the Center for Clouds, Chemistry and Climate, and later at the Center for Atmospheric Sciences. He arrived at BNL's Atmospheric Science Division as a scientist in 2003 and continues to do research on climate and Earth's energy balance.
2011-2369 | INT/EXT | Newsroom