Riding into 11 Sunsets: Brookhaven Scientist to Bike Across New York
July 18, 2011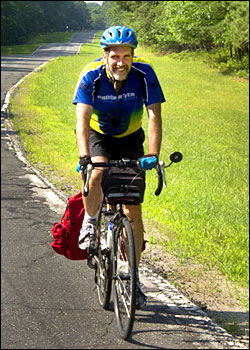 John and bicycle
On August 6, 2011, the cool mist that constantly rises from the rushing waters of Niagara Falls will be very much appreciated by one Brookhaven scientist. That's the day Collider-Accelerator Department employee John Morris plans to finish a 600-mile bicycle trek across New York State, from the tip of Montauk Point to the edge of Niagara Falls.
The ride, which Morris and his friend Michael Crowell have planned to complete in 11 days (with one day of rest in the middle), is part fun and adventure, and part charity project that Morris devised last fall.
"I've always wanted to go on a ride like this and started planning for it late last year," Morris said. "On one level, this trip is a chance to do something that I've always wanted to do. But from the beginning, I thought it might be a great opportunity to help people. So I turned it into a fundraiser for three different organizations, all of which I have some kind of connection with."
The beneficiaries of Morris' project include the Parkinson's Disease Foundation, the Smith Haven Ministries, and the Unitarian-Universalist Service Committee.
"My mother had Parkinson's disease," said Morris. "It really affected her and my Dad's lives until last year, when she passed away from pneumonia. And recently, a good friend of mine in Baltimore contracted very aggressive, early onset Parkinson's, and he died directly as a result of the disease."
The other two organizations are associated with the Unitarian-Universalist church that Morris and his riding partner attend.
"I'm on the board for The Ministries," he said, "which runs an emergency food pantry, counseling services for local families, and a shelter for runaway teens, as well as Project Warmth, which helps people in need keep their homes heated in the winter. And I chose the Unitarian-Universalist Service Committee because it supports programs around the world that promote universal access to clean water. That struck a chord with me because, as I thought about this ride and started planning it, I was very thankful that I'll have access to good, sanitary water in rest stops all across New York State. But there are people in the world who have to walk miles for clean water or have no sanitary water options at all."
To prepare for the ride, Morris took weekend cycling trips to various locations on Long Island, including Port Jefferson, which has steep hills that will help him tackle the mountain terrain in upstate New York, and into Manhattan, through which they'll ride on the third day.
"We'll cross the Brooklyn Bridge and the Walkway Over the Hudson at Poughkeepsie," reads Morris's website for the ride. "After riding through the Catskill Mountains, we'll swing north to the Erie Canalway trail for our ride through western New York."
Along the way, Morris and his partner plan to stay with friends, which will cut down on their costs and the amount of equipment they have to bring.
"It's nice not to have to lug a tent the whole way," said Morris. "People have been so helpful in the planning of this trip. To map the route itself, I started with the cycling function on GoogleMaps, then contacted cycling clubs in different areas to see what they thought would be the best routes. A lot of people made some nice suggestions about which roads to travel and which to avoid."
Morris is hoping donations will continue to come in throughout (and following) the ride, which he'll be blogging about at: http://niagarabycycle.info. Anyone who would like to view the blog or donate can do so by visiting the webpage.
2011-2482 | INT/EXT | Newsroom