BNL Honors Five 2011 Brookhaven Award Winners
August 2, 2011
BNL's Brookhaven Awards for 2011 were presented by Lab Director Sam Aronson to the five winners — Noel Blackburn, Community, Education, Government and Public Affairs Directorate; Cathleen Lavelle, Photon Sciences Directorate; Paul Ribaudo, Photon Sciences and Superconducting Magnet Division; Dennis Ryan, Radiological Control Division; and Scott Seberg, Collider-Accelerator Department — at the annual Employee Recognition Award Ceremony held in Berkner Hall on Friday, June 17. The Employee Recognitions Awards, consisting of a plaque and $10,000 each, are given to recognize distinguished contributions to the Laboratory's mission in each of three broad areas of work, and are the highest accolades given by Brookhaven to its employees. The 16 awards were first announced in The Bulletin of June 24; the six Science & Technology Award winners were posted on July 20, and the Engineering Awards will soon follow. The contributions of the five Brookhaven Award winners are featured below.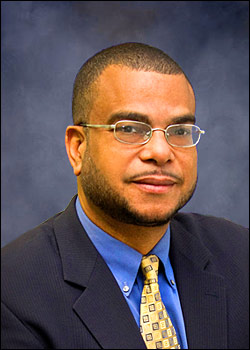 Noel Blackburn
Noel Blackburn, Office of Educational Programs
Noel Blackburn, Office of Educational Programs (OEP), has been a key contributor to BNL's educational programs' being rated by DOE as "best in class." Also, the DOE-funded OEP programs have achieved more than 34 percent minority participation and received approximately a dollar-to-dollar contribution from the National Science Foundation (NSF) in support of these programs for the past six years, largely because of Blackburn's work.
In 2006, Blackburn initiated the Interdisciplinary Consortium for Research and Educational Access in Science and Engineering (INCREASE), which promotes research in historically black colleges and universities and other minority-serving institutions at national user facilities — in particular, the National Synchrotron Light Source (NSLS). He secured funding from DOE and the National Science Foundation for INCREASE, which has grown steadily since its first meeting in 2007. With Blackburn's encouragement, the INCREASE team broadened its research scope, holding a meeting at the Center for Functional Nanomaterials in 2010, and this year, expanding to other DOE synchrotrons.
In addition, Blackburn manages several programs in which students and/or professors get hands-on science learning and research experience at BNL. These include the Faculty and Student Team Program, the Community College Institute, the Minority High School Apprenticeship Program, the Graduate Research Internship Program and the Faculty Sabbatical Program.
With a master's degree in environmental engineering from the City College of New York, Blackburn worked as the office engineer for Bechtel International, Inc., in Trinidad before joining BNL's Environmental Restoration Division in 1999, becoming a project engineer in 2001, then moving to OEP in 2004. Blackburn's honors include the 2010 DOE Outstanding Mentor Award and 2009 Minority Access National Role Model Award.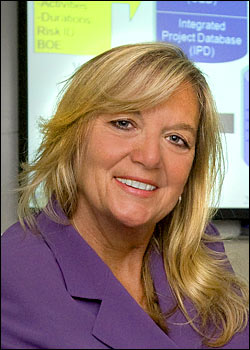 Cathleen Lavelle
Cathleen Lavelle, Photon Sciences Directorate
Cathleen Lavelle, Photon Sciences, leading a team of project management experts, developed the earned value management system (EVMS) — a method to evaluate performance — for Brookhaven Science Associates (BSA) in 2008. Her efforts were crucial to BSA's receiving EVMS certification, needed before DOE could grant Critical Decision 3 status for National Synchrotron Light Source-II, approving the start of construction of the world-class synchrotron in 2009. EVMS is a software- and process-based project management method that combines measurements of scope, schedule, and cost to evaluate performance objectively. Reviewers and DOE personnel have identified Lavelle's system as "best in class." Now a Labwide system, EVMS helps project managers to assess their project performance and report their progress to DOE.
Lavelle assisted in implementing EVMS for several projects at BNL after designing the process for BSA. Also, she is the Lab's subject matter expert for project management, providing updates to the subject area and the Lab's EVMS description in the Standards-Based Management System. In addition, she coordinates the BSA annual EVMS surveillance reviews at BNL and has led several surveillance reviews at other DOE facilities.
Lavelle earned a B.S. in business administration from SUNY Plattsburgh, an MBA from Babson College, and project management professional certification. She worked in project planning and project management positions for Northrop Grumman Corporation, Honeywell, Lockheed/Sanders, and the Superconducting Super Collider Laboratory before joining BNL in 1994 as a project controls supervisor. From 2000 to 2006, she held a simultaneous position as site project controls coordinator before attaining her current positions as NSLS-II project controls manager and project management/EVMS expert.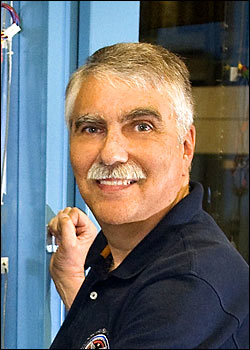 Paul Ribaudo
Paul Ribaudo, Photon Sciences Directorate and Superconducting Magnet Division
Paul Ribaudo, a senior technical supervisor in both Photon Sciences and the Superconducting Magnet Division, is recognized for having taken on and successfully completed very challenging projects in magnet development and electrical work during his 33 years at BNL. He contributed significantly to the commissioning of the Relativistic Heavy Ion Collider, supervising as many as 40 technicians under tight time constraints to install power supplies and work on quench detector wiring, magnet electrical circuit testing, and related electrical work.
Gearing up for the installation of electrical systems and power supplies for NSLS-II, Ribaudo helped the Electrical Engineering Group to progress through many reviews. He hired technical staff and handled all technical and administrative aspects of procurements for electrical supplies for NSLS-II.
In his early years at BNL, Ribaudo worked on numerous magnet projects for accelerators at BNL and elsewhere, including Isabelle and the Superconducting Super Collider. His work helped the Laboratory to maintain its reputation as a world leader in superconducting magnet technology.
After serving four years in the U.S. Navy, Ribaudo earned an associate's degree in electronics and computer science from Queens College in 1976. He was an electronics technician at Gull Airborne Instruments in Hauppauge before joining BNL in 1978 as an engineering support technician for the Isabelle Project, which later evolved into the Magnet Division. Ribaudo rose through the ranks to attain his supervisory position in 1992, and he joined the NSLS-II Project in 2008. In addition, he has been a member of the Brookhaven Veterans Association since 2006.
Dennis Ryan
Dennis Ryan, Radiological Control Division
Dennis Ryan, manager of the Facility Support Services group in the Radiological Control Division, was recognized for his exceptional achievements in a variety of technical, engineering and management positions. He has worked at BNL since 1993, and throughout his career, he has been recognized as a top performer, providing the Laboratory with practical and highly skilled technical expertise to find solutions to radiological challenges.
Ryan's main contributions have been in re-engineering and enhancing occupational radiation protection operations for the Brookhaven site. Through his individual contributions and leadership, he enabled research to occur with minimal interruption and risk at the Collider Accelerator Department by designing, executing, and controlling radiological programs for nuclear, radioisotope production, high energy particle, and beamline operations. He developed, implemented and managed more than 50 standard operating procedures for controlling occupational exposure and radiological operations for the Brookhaven site. Several were considered as best practices and are now implemented at other laboratories such as Oak Ridge National Laboratory, Argonne National Laboratory, and the Stanford Linear Accelerator Complex.
In February 2011, the National Nuclear Security Administration, DOE Office of Science, and DOE Office of Infrastructure and Environment performed a review of BNL site processes and management systems supporting material and radiological clearance operations. The review team found that Ryan's program, established over the past 10 years, was technically sound and that some elements were best-in-class in comparison to the 17 other sites evaluated. The team also found that through his leadership, significant liabilities and risks had been mitigated, saving approximately $5 million.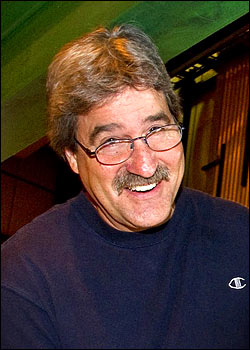 Scott Seberg
Scott Seberg, Collider-Accelerator Department
Senior Technical Supervisor Scott Seberg, Collider-Accelerator Department (C-AD), is recognized for his exceptional performance in support of the construction and operations of the Relativistic Heavy Ion Collider (RHIC) and the C-AD superconducting radiofrequency cavity (SCRF) development program. He has led with distinction in critical C-AD projects, his innovative designs have saved BNL thousands of dollars, and his insight into designing complex assemblies and process tooling is widely sought both in and out of BNL.
Seberg joined the Lab in August 1996. In October, he was named technical supervisor of the RHIC Installation Group, leading a skilled team of mechanical and electrical technicians and craftspeople in installing the superconducting magnetic elements in RHIC. He developed solutions to delivery delays, kept a flexible schedule to accommodate other groups, and continually met schedule milestones within budget. Examples of achievements include repairing all 200 magnet interconnections containing a design flaw in half the estimated time for the job; giving creative aid in installing the spin rotator magnets, and developing and installing an in-vacuum vibration monitoring system without costly false starts.
Beyond RHIC, Seberg and his crew fabricated all the storage ring magnetic elements for the Spallation Neutron Source at Oak Ridge National Laboratory. Since 2004, he and his group provide support for the development of the Electron Energy Recovery Linac (ERL) for a future upgrade to RHIC. Key improvements in design and engineering he has made for the ERL-SCRF five-cell include the tuner cold test fixture, the cryomodule lifting fixture, and the cryomodule assembly.
2011-2508 | INT/EXT | Newsroom