Puppies-in-Training Visit BNL
December 7, 2011
You may have noticed the group of 19 dogs — Retrievers, Shepherds, and Poodles — and their puppy raisers recently crossing the intersection of Upton Road and Brookhaven Avenue.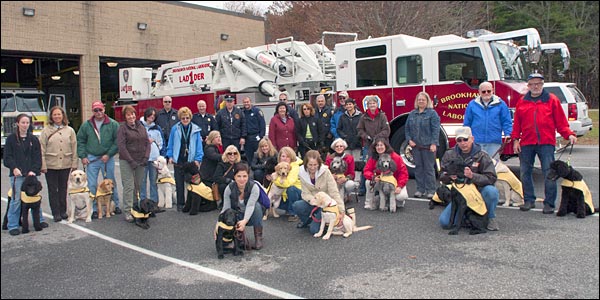 enlarge
Gathered at the firehouse with members of the Laboratory Protection Division are puppies-in-training and their handlers from the Guide Dog Foundation for the Blind in Smithtown (GDF). The puppies and their handlers recently visited the Lab as part of their training.
These "puppies-in-training" from the Guide Dog Foundation for the Blind (GDF) in Smithtown were visiting the Lab as part of their training program. Before heading to Fleming House to practice going up and down stairs, the group stopped at the firehouse where Lab firefighters sounded sirens so the handlers could gauge the dogs' reactions. With the exception of some howling from a German Shepherd, none of the dogs overreacted, a sure sign that they are well on their way to becoming excellent guide dogs.
"The Lab is the perfect place to conduct some initial training for the puppies," said Doug Butler, the GDF puppy advisor for eastern Long Island. "It's a realistic traffic environment, but more controlled, which makes it a good starting point for these puppies. We really appreciate the assistance the Lab has given the GDF. We always feel welcome here."
Brian Buckheit of BNL's Laboratory Protection Division (LP) has been coordinating visits with the GDF for several years. "I appreciate the help and support of my managers and colleagues in LP," said Buckheit. "First and foremost, we want our visitors to have a safe visit. Of course, spending time with these incredible dogs is easy to do. Every time they visit, I gain more admiration for the trainers. I'm happy we have a nice partnership with the GDF."
Among this group of 19 puppies and volunteer puppy raisers were Vivienne Emery, Chris Forrester, and Patricia Gregory. Each has a slightly different story, but all agree that participating in guide dog training is fulfilling and rewarding. They also all concur that when "their" puppy has met training requirements and is ready to be transferred to its new handler and job duties as a guide or service dog, parting is bittersweet.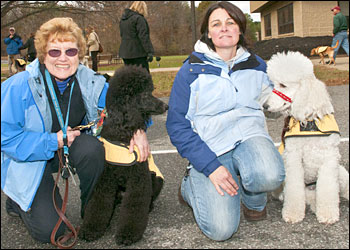 Emery said she is very familiar with the BNL site as her late husband Victor was a physicist at the Lab for many years. "Vic loved dogs, and so do I," said Emery. "We became involved in training while we were still in England. I am also a breeder caretaker." Emery's enthusiasm and dedication was apparent when she smiled and looked down at her statuesque black Poodle Sybil, sitting quietly at her feet.
Chris Forrester has also been volunteering for the GDF for many years. "By far, this is my favorite hobby," said Forrester while patting the head of his dog Marino, a black Poodle. "Of course, you become emotionally attached to your dog, so when the time comes to say goodbye it is difficult. But then I think about how the dog I have loved and trained is moving on to make a big difference in someone's life. Of course, I always get another puppy as soon as I can!"
Patricia Gregory is a group leader at GDF. "We started a new program to conduct some informal training and socialization classes for the puppies," she said. These sessions also allow the volunteer trainers who work typical business hours to bring the puppies to training sessions in the evening. "It's working out great for everyone," she said.
Gregory is currently training Luke, an 80-pound yellow Labrador Retriever. "Luke is a very kind and gentle dog," she said. "When the call comes that it's time for him to be transferred to his new owner, I know I will cry — as I always do — but I am always willing to take that chance knowing this dog may provide assistance to a visually impaired person or to a veteran suffering from physical or emotional injuries from combat."
It is important to know that the GDF supports every dog for life. If a dog doesn't make it through training, it is first offered back to the puppy raiser. If they are unable to keep the dog for any reason, they may ask the GDF to offer the dog for adoption. Similarly, when a dog is no longer able to fulfill its duties for any reason, the GDF may handle the adoption to ensure the dog is placed in a good home.
"I currently have seven dogs at home," added Butler. "Not all of them are from the GDF, but two are retired breeders who have produced many successful guide dogs and service dogs. One is a new breeder, and one is a puppy-in-training. Each and every one of them is special and thought of as a member of my family."
To raise a guide dog puppy or for more information on the Guide Dog Foundation or America's VetDogs, please visit http://www.GuideDog.org/ or www.VetDogs.org.
2011-2744 | INT/EXT | Newsroom