Catalysis Chemist Accelerates Alternative Energy Research
March 18, 2012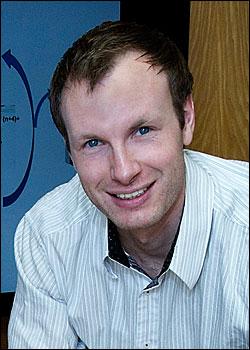 Jonathan Hull
For Jonathan Hull, chemistry is in the blood. With a chemical engineer and a doctor in the family, it's no surprise that some of Hull's first memories involve chemistry experiments, like putting vinegar and baking soda into a glass bottle and watching the cork blow off in his backyard sandbox in the New Mexico desert.
"I certainly got a kick out of the loud explosion," he said. "I wanted to see how high I could make the cork go. I also remember trying to make a parachute for it. I was excited by the process of having an idea, and then designing a test for it and making it happen. I still am."
Now, Hull plays a role in helping others understand the value of the scientific process, especially as it relates to renewable energy and catalysis, which speeds up reactions and could be vital to developing renewable fuels.
Hull has studied and created homogeneous and heterogeneous catalysts for close to 10 years. Homogenous catalysts dissolve, and you can tinker with their properties in a rational way to make them more effective. Heterogeneous catalysts, on the other hand, do not dissolve, tend to be more robust, and are easy to separate from reaction products and to recycle. But they can often be more difficult to rationally manipulate to improve catalytic function.
Hull, a Goldhaber Distinguished Fellow in Etsuko Fujita's chemistry research group at Brookhaven National Laboratory, is now working to merge the best aspects of both processes. He designs homogeneous catalysts that use abundant resources like water and carbon dioxide, and then tries to immobilize them on a heterogeneous material for electrochemical applications.
"The project fits well with the Chemistry Department at Brookhaven, which is very good at studying both what's happening in solution and also on the surface of a material," Hull explained. "Members of our department have been studying these areas for years, and have developed some great catalysts as a result. The work also fits in well with the instrumentation that the Lab has over at the Center for Functional Nanomaterials and at the National Synchrotron Light Source." These facilities allow scientists to build materials and examine their properties at the atomic scale.
Hull arrived at Brookhaven in October 2010, fresh off of completing his post-doctoral research at the University of North Carolina at Chapel Hill. A year and a half later, Hull's first article as a corresponding author — in conjunction with Fujita, Brookhaven chemist James Muckerman, and Dr. Yuichiro Himeda of the National Institute of Advanced Industrial Science and Technology in Tsukuba, Japan — was published March 18, 2012, in the journal Nature Chemistry.
The team's research focused on designing a catalyst to combine hydrogen and carbon dioxide and create a liquid formic acid solution that could be stored and transported like oil or gasoline — and then later release the hydrogen for use in fuel cells. The new catalyst can do both reactions under atmospheric pressure and mild temperatures. (Read the press release.) The ideas for this study were seeded in a conversation at Brookhaven between Hull and Himeda during a visit early last year.
"It would be great to invent something that will help commercialize or implement clean energy in a real way," said Hull. "I would really love to say that we solved the problem, but there are a number of steps that need to happen before that takes place. But I do feel that this is a step in that direction.
"It's been a very productive collaboration and I have been very fortunate to work with everybody who's been involved in this, especially to work so closely with our collaborators in Japan, and to be a member of a great group here at Brookhaven. Jim and Etsuko have really expanded my knowledge base," he said.
Hull earned his B.S. in Chemistry and Philosophy from Haverford College in 2004 and his Ph.D. in Chemistry from Yale University in 2009. He's also studied at the London School of Economics and Political Science, and the Yale School of Management.
Apart from his work as a Goldhaber Distinguished Fellow and a member of Fujita's team, Hull is an undergraduate research mentor and serves on the board of Brookhaven Lab's Association of Students and Post-Docs.
"Brookhaven is a multinational, world-class research institute and the students and post-docs that come here are so diverse. To help these young scientists transition into the community, I would love to be able to find opportunities to help them get involved in volunteer projects at the Lab and beyond. We're also working on some professional development and mentoring programs."
So, in essence, Hull himself is serving as a catalyst, helping to form a cohesive, productive scientific community.
2012-2952 | INT/EXT | Newsroom