Special Earth Week 2012 Event: The Long Island Earth Summit
April 13, 2012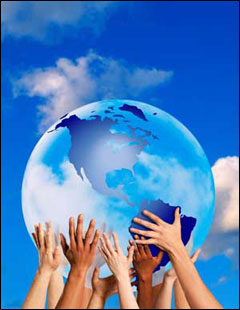 The Brookhaven Lab Community Relations Office and the Environmental Protection Division are partnering with Citizens Campaign for the Environment to host the 2012 Long Island Earth Summit, Tuesday, April 17, 11:30 a.m. to 5 p.m. in Berkner Hall. Reserve your spot now for this important event.
The Earth Summit will combine good science with good advocacy to advance a 2012 Earth Agenda for Long Island.
Summit events include displays in Berkner Hall Lobby, a series of environmental workshops, and a panel discussion on Long Island's environmental challenges. Don't miss the Green Vehicle Showcase, 10 a.m. to 2 p.m., at Berkner Hall Circle. See what's new in the world of electric vehicles, hybrid electric vehicles, and plug-in hybrid electric vehicles
Workshops beginning at 1 p.m. will cover Toxic Tides, Long Island's Energy Future, the Hydrogeology of Long Island, and Smart Planning. A panel discussion will follow at 3 PM.
Prof. Ellen Pikitch, School of Marine and Atmospheric Sciences at Stony Brook University, Institute for Ocean Conservation Science, will close out the day with a BSA Distinguished lecture – "Starving the Ocean: Why We Should Leave Small Fish in the Sea" – from 4 to 5 p.m. in Berkner Hall Auditorium.
2012-3023 | INT/EXT | Newsroom