ESOL Program Reaches Ten Years and Counting
July 9, 2012
Brookhaven's English for Speakers of Other Languages program turns ten this year.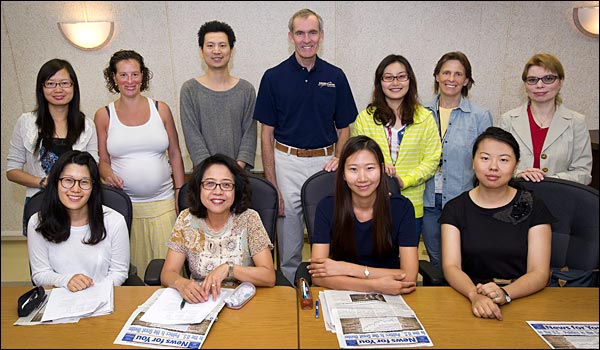 ESOL class members gather with volunteer tutors James Higgins (back center) and Qingyan Ma (bottom right)
Students and teachers celebrated the milestone with a potluck lunch in the Recreation Building on Friday, May 25. Program Coordinator Jennifer Pieniazek, who is now out on maternity leave, spoke to the group about her experiences watching ESOL grow.
"Teaching you has taught me so much about cultures from around the world and different viewpoints," Pieniazek said. "I feel so grateful to have this opportunity to get to know you, to share with you the American culture, and to help you use English effectively in your daily life and work."
With the help of volunteer tutors James Higgins, Qingyan Ma, Anasatasia Bazilevskaya, and Izaskun Atorrasagasti Placencia, ESOL offers an array of free courses in English, Spanish, Russian, and French.
A typical class includes a mixture of grammar, vocabulary, and speaking lessons. Students practice tongue twisters, listen to music like Louis Armstrong's "What a Wonderful World," and read about American holidays and customs. Occasionally, the group goes on a field trip together.
Although the classes are nominally separated into different levels, many students choose to attend a class every day in order to practice as much as possible.
"A very important part of our research work is communication with the other scientists and even with all the people who help us to implement our research. What foreign people need to know is English vocabulary, idioms, and the native style of conversation," said Galina Yakubova of the Environmental Research and Technology Division. Yakubova, who is from Russia, has been attending the classes for almost one year. "I have to learn to express myself."
Placencia, who teaches the Spanish classes, is also an ESOL English student. She came to Brookhaven with her husband, who works in Instrumentation. "In many cases, our husbands speak better than us, so we need to improve our English in real life," she explained.
Students often use what they learn in the classroom for real-world tasks like finding a job or buying a car. Additionally, ESOL tutors are available to help navigate these challenges.
"It's fun for me as an instructor because I get to meet people from different countries," said Higgins, who has been teaching English at Brookhaven for over eight years. "I get as much out of it as they do."
For more information about language classes at the Lab, visit the ESOL program website at bnl.gov/esol.
2012-3188 | INT/EXT | Newsroom