Experience BNL's Summer Sundays
July 13, 2012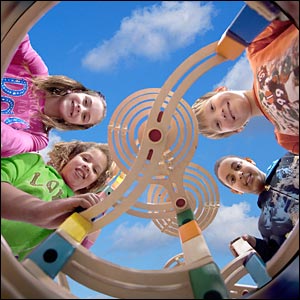 BNL's Summer Sundays — exciting science shows, tours of world-class science facilities and hands-on educational activities for the whole family — all for free! BNL is open on Summer Sundays through August 5 for the public, employees, and their families to enjoy a fun-filled visit while learning about dynamic scientific developments at the Lab.
This Sunday, July 15 ― an exciting day of hands-on family fun! Visit the Science Learning Center to discover basic scientific theory using magnets, mirrors, and more! See the Environmental Extravaganza. Play a part in the Super Scientific Circus. Be enthralled by the "Phenomenal Physics of Mr. Fish" show. See the Family Exploration Day webpage for details on activities.
No reservations are needed, but visitors 16 and older must bring a photo ID. Visitors may arrive any time between 10 a.m. and 3 p.m. A different tour and new science show will be featured each week. The last facility visit takes place at 3 p.m. each week, and science shows will be held at noon, 1:30 p.m., and 3 p.m. each Sunday in Berkner Hall. A cafeteria and gift shop, also located in Berkner Hall, will be open until 2 p.m. and 4 p.m. respectively.
2012-3189 | INT/EXT | Newsroom