Summer Sunday of 7/22: Visit the NSLS, NSLS-II
July 20, 2012
BNL's Summer Sundays — exciting science shows, tours of world-class science facilities and hands-on educational activities for the whole family — all for FREE!
BNL is open on Summer Sundays through August 5, 2012, for the public, employees, and their families to enjoy a fun-filled visit while learning about dynamic scientific developments at the Lab.
This Sunday, July 22 : Bright Light, Dazzling Discoveries! See the "Science Laser Light Spectacular" show and tour the National Synchrotron Light Sources (NSLS) I & II. Upon completion, the NSLS-II will be one of the world's most advanced light sources — a giant x-ray microscope! Master the synchrotron quiz, visit exciting exhibits, and win prizes, including a special tour of Long Island's brightest light!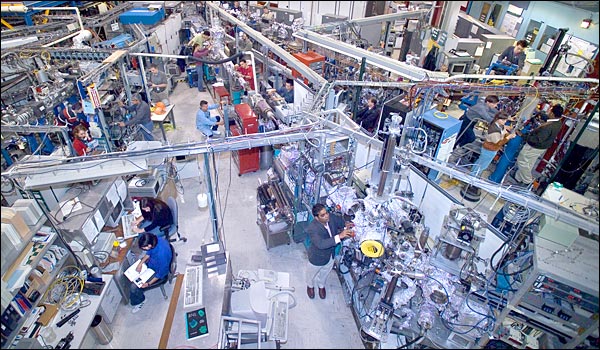 NSLS experimental floor
This week visitors will also be entertained by Lab employees and their family members, including performances by Chinese folk dancers and rock, jazz, and blues musicians. The Lab's motorcycle and classic car enthusiasts will add to the fun by showcasing their vehicles, and members of the camera club will display their captured images.
See the dazzling light webpage for details on activities.
No reservations are needed, but visitors 16 and older must bring a photo ID. Visitors may arrive any time between 10 a.m. and 3 p.m. A different tour and new science show will be featured each week. The last facility visit takes place at 3 p.m. each week, and science shows will be held at noon, 1:30 p.m., and 3 p.m. each Sunday in Berkner Hall. A cafeteria and gift shop, also located in Berkner Hall, will be open until 2 p.m. and 4 p.m. respectively.
For info call (631) 344-2651 or visit the Summer Sundays webpage.
2012-3196 | INT/EXT | Newsroom