BERA Bonanza at Summer Sundays
July 18, 2012
There will be a new group of BNL participants this year at the Lab's July 22 Summer Sunday. That day, members from BERA (Brookhaven Employee Recreation Association) and their families will share their personal avocations, showcase their talents, and demonstrate the Lab's wealth of cultural diversity to visitors.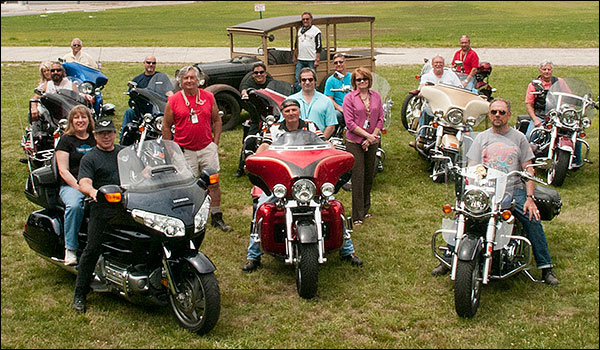 enlarge
The Cycletrons will be one of several BERA Clubs sharing their favorite pastimes with visitors during the Lab's Summer Sundays program on July 22, 2012. In this photo, taken June 18, 2012, the Cycletrons gathered for lunch at the gazebo to celebrate "International Ride to Work Day." The annual event is meant to highlight the positive social and economic values of motorcycling. Afterwards, several club members (and passengers) hopped on their bikes and traveled to Greenport to enjoy the sunshine and the wind on their faces.
For starters, the members and friends of the Cycletrons, a club for the Lab's motorcycle enthusiasts, will promote motorcycle safety, showcase their bikes and share their passion for open-air riding. Visitors can expect to see a variety of motorcycles such as BMW, Ducati, Honda, Suzuki, Yamaha, and Harley Davidson.
Safety is rule number one
"The Cycletrons are a very active club," said longtime member and past president Frank Dusek who works in the Collider-Accelerator Department. "We organize many group rides and events. Our long-time motto is 'a good ride is a safe ride.' We don't just promote motorcycle safety, we practice it." Dusek added that he and his fellow riders appreciate the opportunity to promote safety awareness. "It is so important that we all look out for each other. Safety is rule number one."
Living the dream
Cycletrons President Andy Mingino, who works in the Photon Sciences Directorate, said he is happy to promote motorcycle safety and share stories about journeys with Lab's visitors. "Being involved in Summer Sundays is particularly special for me," said Mingino. "As a young boy I came to the Lab for a visitor's day with my friend and his dad, Howie Farrell, who worked in the Reactor Division. I was so captivated by the Lab facilities that I knew even then this was the place I wanted to work someday. Now I am living the dream of that young boy. I have a great job and an incredible crew of motorcycle-riding comrades."
Life is a highway
In addition to short rides to local venues like Claudio's Restaurant in Greenport or All-American Burger in Nassau County, Cycletron members have enjoyed the open roads on their two-wheeled vehicles and traveled to interesting places such as Nova Scotia and New Orleans, Louisiana, as well as motorcycle rallies in Laconia, New Hampshire and Johnstown, Pennsylvania. Some very adventurous members, like Craig Diaz, Rich Sautkulis, and Jim Yerry, have traveled cross-country with minimal supplies packed in their side bags.
BERA Brings It On
But the Cycletrons won't be the only BERA Club to make an appearance at the July 22 Summer Sunday. For instance, the Asian Pacific American Association will delight visitors with the performance of a Chinese folk dance and demonstration of Chinese calligraphy, the Antique and Classic Motoring Club will have their classic cars on display, and the Camera Club will display their captured images.
In addition, visitors will be treated to musical performances by BNLers and their family members, including a progressive rock "Zappa-like" performance from the band Calico Galaxy, followed by a selection of alternative rock music by Chris Lake and Friends. The Chemistry Department's Michael White and his band, "Down a Fourth," will fill the air with jazz music, and Laboratory Protection Division's George Bostick's Guitar Blues Band will close the show by "singing the blues."
Christine Carter, recreation supervisor, said she is amazed at how active and creative all the BERA clubs are. "I am happy to say that we have a club for almost every sport or cultural interest," said Carter. "If you work here and have a favorite pastime ― from ultimate frisbee to jewelry design — we have a club for you!"
Interested in traveling down the road with the Cycletrons? Contact Andy Mingino, Ext. 5786, mingino@bnl.gov or Rich Sautkulis, Ext. 3386, rich1@bnl.gov.
For more information on BERA Clubs and activities contact Christine Carter, Ext. 5090, ccarter@bnl.gov.
All are invited to attend the Summer Sundays experience. See the schedule of events and details.
2012-3207 | INT/EXT | Newsroom