Update on BNL's Olympic Athlete
August 16, 2012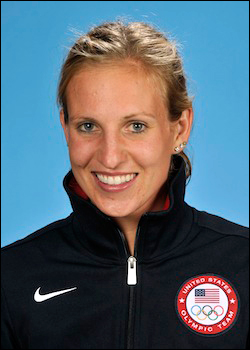 Maria Michta (Photo courtesy of USA Track & Field)
The Olympics are over, and BNL's own Olympic athlete, Maria Michta, daughter of National Synchrotron Light Source (NSLS) scientist Richard Michta and one-time summer intern at BNL at the National Synchrotron Light Source, broke her own personal best to finish 29th out of 61 in the women's 20-kilometer racewalk, completing the 12.4 miles in one hour, 32 minutes and 37 seconds.
Michta's time, which was two minutes and 25 seconds off her previous personal best, is faster than any other American 20k walker has achieved in the Olympic Games. Soon, however, she will be back at Mount Sinai Medical School, where she is pursuing a doctorate in microbiology.
Before leaving for London, Michta told a Bulletin reporter that she had two goals: to reach the Olympic A standard for racewalking by finishing in under 1:33:30, and to place in the top 50 percent in her competition.
She accomplished both: Congratulations, Maria, and best of luck for the future.
2012-3298 | INT/EXT | Newsroom