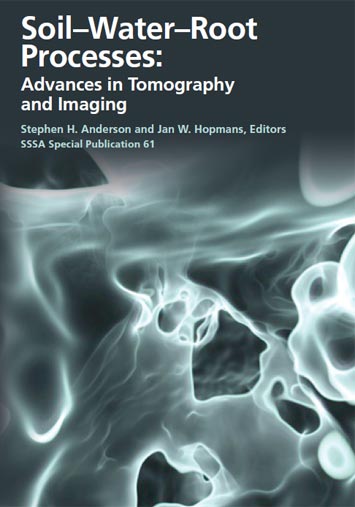 Cover image from NSLS beamline X2B; data also taken at X8C. Visualization by Kaloian Petkov, Stony Brook University.
Keith Jones and colleagues collaborated to write a chapter in a book on tomography, published June 2013. The book's intended audience includes soil scientists, geologists, civil engineers (geotechnical, environmental) and biological engineers. The authors are listed here:
Keith W. Jones, Environmental Sciences, BNL
Jun Wang, Photon Sciences, BNL
Yu-chen Chen, Photon Sciences, BNL
Qingxi Yuan, Photon Sciences, BNL
W. Brent Lindquist, Stony Brook University
Lauren Beckingham, Princeton University
Catherine A. Peters, Princeton University
Wooyong Um, Pacific Northwest National Laboratory
Lee Newman, SUNY College of Environmental Science and Forestry
Tara Sabo-Attwood, University of Florida Gainesville
Ryan Tappero, Photon Sciences, BNL
* * *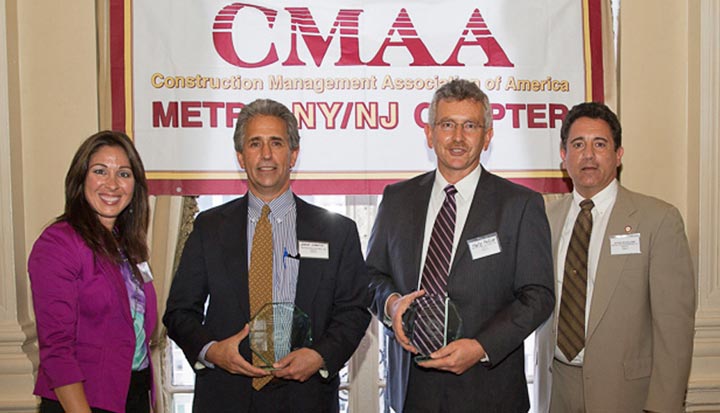 Steve Sawch and Marty Fallier (second and third from left)
On behalf of Brookhaven Lab and the NSLS-II Project, Marty Fallier and Steve Sawch accepted the 2013 award for Owner-managed Project of the Year from the Construction Management Association of America, New York / New Jersey Chapter. Formerly in the Facilities Division of the Photon Sciences Directorate as division director and deputy division director, Fallier is now Campus Development Program Manager, Facilities and Operations (F&O), and Steve Sawch is now Manager of Construction Services in F&O's Modernization and Project Office.
* * *
Huffington Post science blogger Zoe Strassfield writes about her visit to NSLS and NSLS-II on Summer Sunday, July 21, 2013.