Showcasing Brookhaven Science to Industry
November 14, 2013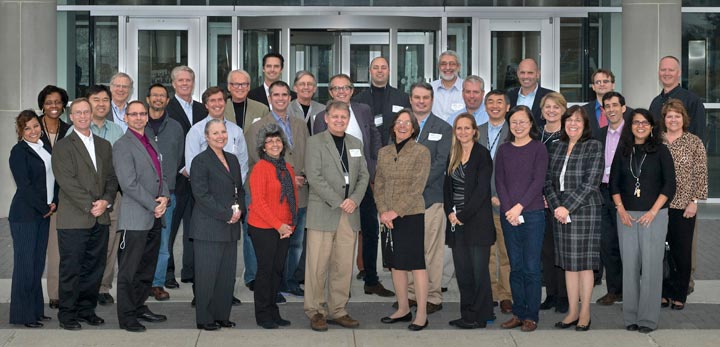 enlarge
Participants at the October 2013 Innovators International meeting, held at the National Synchrotron Light Source II
Innovation and science are perfect partners in research and development (R&D). And that's what drew Innovators International to Brookhaven National Laboratory on October 30, 2013.
Connie Cleary, the Lab's new Commercialization Manager, and head of the Technology Commercialization and Partnerships Office, welcomed meeting participants with this promise: "Brookhaven has great science and resources that we can share with industry."
These speakers on the meeting agenda amplified Cleary's statement:
Laboratory Director Doon Gibbs – Overview
Pat Looney, Chair, Sustainable Energy Technologies Department – Sustainable energy technologies
Steve Dierker, Associate Laboratory Director, Photon Sciences – Industrial users at the National Synchrotron Light Source (NSLS) and capabilities of NSLS-II
David Schlyer, Chair, Biosciences Department – Life sciences, specifically, food/beverage /energy crop technology and medical devices
James Dickerson, Assistant Director, Center for Functional Nanomaterials (CFN) – Tools at the CFN
Charles Carlson, Electrical Engineer, Collider-Accelerator Department – Capabilities within the Collider Accelerator Department
The day was punctuated by focused tours of user facilities conducted by knowledgeable staff:
NSLS-II – Photon Sciences beamline scientists Jianming Bai, Yong Chu, Eric Dooryhee, Wah-Keat Lee, Zhong Zhong
NSLS battery lab – Photon Sciences industrial liaison Jun Wang
CFN – CFN staff scientist Chang-Yong Nam
Nineteen scientists, engineers and business specialists attended the daylong meeting to represent their companies:
3M Company
Anderson Corporation
Conteneo
Ford Motor Company
Graco Inc.
Hallmark Cards
Illume
NASA Glenn Research Center
Pernod Ricard USA
Tennant Company
Q&As with speakers, snippets of conversations during coffee breaks, lively exchanges during the tours, and detailed discussions at the working lunch were evidence of a productive day for all. That was reaffirmed in comments from attendees during the wrap-up session at the end. Also, Innovators International CEO Uri Neren requested speaker presentations to provide to the organization's members who were unable to attend.
Cleary acknowledged the teamwork involved in setting up this successful meeting with industry. "It was a true collaboration among CEGPA [Community, Education, Government and Public Affairs directorate], the user facilities, scientists and other staff," she said. "That same teamwork will serve the Lab well going forward."
Already, opportunities are becoming apparent for nurturing a budding relationship with Innovators International and its member companies. In his talk, for example, Steve Dierker announced that Photon Sciences will be holding a workshop in the spring of 2014 on enhancing industrial research at NSLS-II.
Innovators International is a private collaboration of senior innovation leaders from corporations, governments, and other organizations around the world. Founded in 2007 by R&D and strategy leaders from top international companies, the group helps its members develop the most cutting-edge approaches to innovation.
2013-4443 | INT/EXT | Newsroom