Derek Lowenstein: A Passion for Science and Orchids
January 21, 2008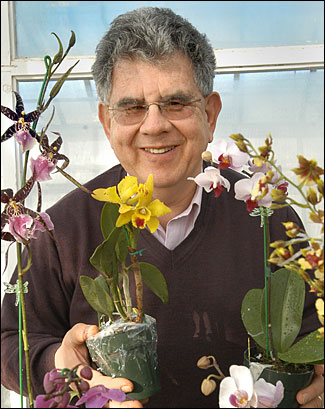 "I always had a plant on the window sill that I tended when I was growing up in Brooklyn," Derek Lowenstein, Chair of the Collider-Accelerator Department, said, explaining his interest in plants - and, in particular, orchids. "During the summer I also grew vegetables and flowers as part of the children's program at the Brooklyn Botanical Garden."
Later in Lowenstein's life, Herb Kinney, a BNL retiree, and his wife Betsy invited him to the summer auction of orchids given by the Suffolk Orchid Society, and, "after that, I was hooked," Lowenstein said.
For about 20 years, Lowenstein has been collecting and growing orchids, and today he has over 300 orchids in his collection. "I grow them under lights in my basement, and in the summer they all go out on my front porch," he said.
Lowenstein is currently vice president of the Suffolk Orchid Society, which meets at 7:30 p.m. every second Monday of the month at the Emma S. Clark Memorial Library in East Setauket.
Although orchids are sometimes considered rare and exotic, there are more than 20,000 species of orchids in the world, and orchids grow on every continent except Antarctica. Some varieties of orchids can be found growing wild in the woods of Long Island, but it is illegal to collect them. Lowenstein always has at least a few orchids in bloom in his collection, since different orchid species bloom at different times of the year.
"You need the appropriate amount of light and fertilizer for an orchid to thrive and most importantly to bloom," Lowenstein explained. "Most orchids in the wild are attached to trees or rocks, and for the most part do not grow in direct sunlight. They receive nutrients from the minerals and organic matter in the rain runoff. So, when growing orchids, keep them away from direct sunlight (there are some exceptions), and water and feed them both weekly and weakly. They don't like to have wet feet. Again, there are some exceptions, but don't allow them to stand in water. I think most home-grown orchids die due to poor watering practices."
Lowenstein has created two new orchid hybrids, which he has registered with the Royal Horticultural Society, an organization that maintains the database of orchid hybrids and species, recording about 3,000 new hybrids a year. Lowenstein's hybrids are named "Elaine Lowenstein," after his wife, who works in BNL's Community Relations Office, and "Alexander Leif," after his grandson. Since the hybrids are still little seedlings, it's too soon to tell what they will look like when mature, but hybrids are often more beautiful and vigorous than the two plants from which they originated.
When asked, it's hard for Lowenstein to choose his favorite orchid because they are all so different. But after some thought, he said he is partial to the Paphiopedilum, or Lady Slippers, an orchid genus that has "cousins" that grow on Long Island but is mostly often found in Southeast Asia.
Looking at photos of his orchid collection on his computer, he has one final thought about orchid growing. "It's a socially acceptable addiction," he said.
Think you or one of your colleagues has a good story to tell? Email us! Although we can't write about everyone, we would love to hear your ideas and suggestions.
2008-458 | INT/EXT | Newsroom