55 Lab Employees Recognized for Perfect Attendance
May 16, 2014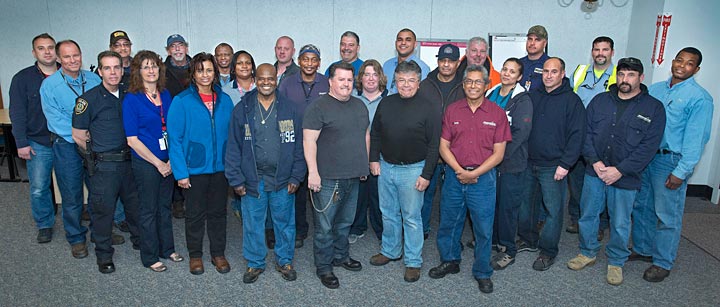 enlarge
Some of the 55 Brookhaven Lab employees who were recognized for perfect attendance records for 2013
Fifty-five Brookhaven Science Associates (BSA) employees at Brookhaven Lab have been honored for their perfect attendance records in 2013. They were recognized during a ceremony held in the Brookhaven Center on April 30.
Fulltime technical and clerical employees paid weekly, and Lab employees represented by the International Brotherhood of Electrical Workers (IBEW) and the Suffolk County Security Police Association are eligible for perfect attendance awards. The Lab presents these awards annually to those who do not use any sick leave during the previous calendar year.
During the ceremony, Compensation and Human Resources Information Systems Manager Bob Kelly presented each awardee with a package containing a $200 check, certificate, and T-shirt.
The awardees for perfect attendance in 2013 are:
19 Years
| | |
| --- | --- |
| Cornelius Jackson | Production Services Office |
| Alex Reben | Production Services Office |
17 Years
| | |
| --- | --- |
| Dhruba Ghimiray | Procurement & Property Management Division |
| Randolph Seibel | Site Resources Division |
16 Years
| | |
| --- | --- |
| Gary Schaum | Laboratory Protection Division |
14 Years
| | |
| --- | --- |
| Stanley Hanlon | Staff Services Division |
| Lisa Metz | Site Resources Division |
12 Years
| | |
| --- | --- |
| Charles Whiting | Procurement & Property Management Division |
10 Years
| | |
| --- | --- |
| Darren Harris | Site Resources Division |
9 Years
| | |
| --- | --- |
| Eugene Barrow | Site Resources Division |
| Ruth Harris | Site Resources Division |
8 Years
| | |
| --- | --- |
| Maria Singleton | Site Resources Division |
7 Years
| | |
| --- | --- |
| John Foley | Laboratory Protection Division |
| Lawrence Kunzig | Site Resources Division |
| Carol Mason | Site Resources Division |
| Joseph Rubino | Production Services Office |
| Jeannette Vera | Site Resources Division |
| Clarence Wilkins | Procurement & Property Management Division |
6 Years
| | |
| --- | --- |
| Wayne Cummings | Procurement & Property Management Division |
| Keith Jackson | Site Resources Division |
| Salvatore Zarba | Site Resources Division |
5 Years
| | |
| --- | --- |
| John Bourquin III | Site Resources Division |
| Robert Danowski | Site Resources Division |
| Terry Jones | Production Services Office |
4 Years
| | |
| --- | --- |
| Michael Daddi | Site Resources Division |
| John Davies | Laboratory Protection Division |
| Daniel Feeley | Energy & Utilities Division |
3 Years
| | |
| --- | --- |
| Nicholas Capazzola Jr. | Site Resources Division |
| Dale Galante | Procurement & Property Management Division |
| Regis Saitta | Procurement & Property Management Division |
| Robert Skeeter | Site Resources Division |
2 Years
| | |
| --- | --- |
| Naomi Baer | Collider-Accelerator Department |
| Susan Dobzeniecki | Site Resources Division |
| Robert Hoade | Photon Sciences Directorate |
| Anya Rajnauth | Site Resources Division |
| Arthur Scholtz | Site Resources Division |
| Steven Schroder | Procurement & Property Management Division |
| Felice Villani | Energy & Utilities Division |
1 Year
| | |
| --- | --- |
| David Baulch | Laboratory Protection Division |
| Andrew Chrzanowski | Site Resources Division |
| Dorene Cousin | Site Resources Division |
| Louis Falco | Energy & Utilities Division |
| Richard Gagliardi | Site Resources Division |
| Michael Honigman | Site Resources Division |
| Robert Kellermann | Collider-Accelerator Department |
| Christopher LoPreto | Laboratory Protection Division |
| Linda Morrell | Biosciences Department |
| Dorothea Nash | Staff Services Division |
| Ivan Rodriguez | Facility Operations Office |
| Joshua Rowland | Site Resources Division |
| Daniel Sheppard | Site Resources Division |
| Joseph Summers | Energy & Utilities Division |
| Samia Thomas Jr. | Site Resources Division |
| Thomas Trojanowski | Energy & Utilities Division |
| Przemyslaw Wysocki | Site Resources Division |
2014-4759 | INT/EXT | Newsroom