Meet Todd Satogata, Physicist and Big Brother
January 14, 2008
In his leisure time, Todd Satogata, an accelerator physicist in the Collider Accelerator Department, can sometimes be found playing guitar or hanging out at Mama Lisa - a local pizza place in Mastic - with 15-year-old Gary Luisi. Satogata is officially Gary's "Big" in Big Brothers Big Sisters of Long Island, the local affiliate of the largest youth mentoring association in the U.S.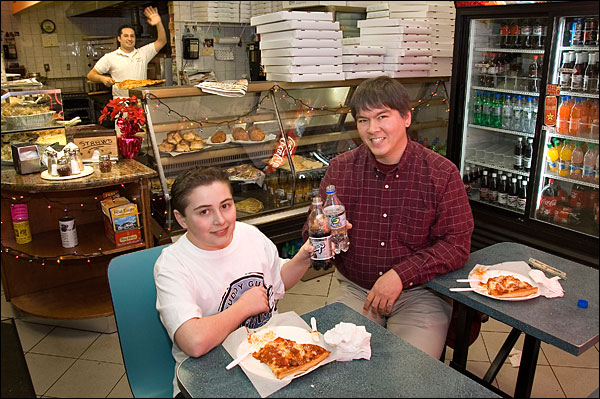 Gary Luisi (left) with his "Big Brother," BNL Accelerator Physicist Todd Satogata at Mama Lisa's Pizza in Mastic.
"I've always liked mentoring," Satogata said. "I grew up in the Midwest knowing about Big Brothers Big Sisters. I read about the Long Island affiliate and decided to join about two years ago." After two interviews at the organization's Southampton office and an application process that involved completing a questionnaire about his background and fingerprinting, Satogata was matched with Luisi in December of 2005.
"There is a big need for male mentors," Satogata said. "In Gary's case, his mother, who is divorced, wanted a male role model for her only son, who lives with her, his 26-year-old sister, and his sister's four-year-old daughter. Luckily, Gary and I were the perfect match - we both are interested in music, sports, and science."
Satogata explained that being a big brother does not involve a very large investment in time or money. Although the organization requests that participants make a long-term commitment of at least one year to mentor a child or teenager, a few hours a week of quality time spent together is all that it takes to make a difference in a youngster's life.
"Gary and I do things that are fun together," Satogata said. "They don't have to be expensive things. For instance, I've taken him to BERA softball games, to the Lab's Summer Sundays, and to the BNL 60th anniversary revue. Sometimes Big Brothers Big Sisters provides free tickets to events like Yankees' or Mets' games. If we do something that costs more than a few dollars, like go to a movie, Gary pays his own way."
Satogata receives guidance in mentoring every few weeks from a representative from the Big Brothers Big Sisters' local office. But he has experience with children in his own family. Satogata has a daughter, Sara, and a one-year-old granddaughter, Alexis, as well as a 16-year-old brother, Sean. He maintains a long-distance relationship with his family, who live in Cincinnati, Ohio, where he was raised.
National research shows that Big Brothers Big Sisters mentors have a measurable impact on children's lives. After participation in the program, children are less likely to begin using alcohol or drugs and less likely to skip school.
But the positive impact works both ways. "I get just as much out of our relationship as Gary does," Satogata explained. "I get to have a good friend, and I get to be a kid again."
Satogata plans to continue his relationship with Gary for a long time to come. In fact, he told Gary, "I'd better be invited to your wedding!"
Think you or one of your colleagues has a good story to tell? Email us! Although we can't write about everyone, we would love to hear your ideas and suggestions.
2008-480 | INT/EXT | Newsroom