Doing Business with User Facilities
Vendors Show Products at NSLS/NSLS-II & CFN Users' Meeting
April 29, 2014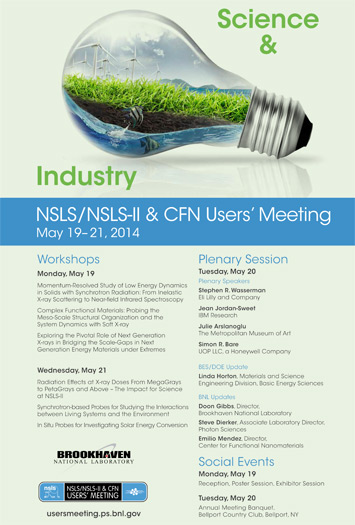 At the 2014 annual users' meeting for the National Synchrotron Light Source (NSLS), NSLS-II, and the Center for Functional Nanomaterials (CFN), May 19-21, expect to see vendors everywhere you turn. Vendor coordinator Nancye Wright, Photon Sciences User Administration Office, counts 59 companies represented at this year's meeting. "They provide valuable goods and services to our user facilities," said Wright.
Thales SESO has been providing optical components for more than 45 years, according to Nicolas Douradou, sales manager for the company, which is headquartered in France. "We want to strengthen our position in the U.S. and be as close to the end users as possible," said Douradou. "Partnering with the New Jersey-based Thales Component Corporation and attending this year's users' meeting is helping us toward this goal."
Jim McVea, sales manager of Thales Components, added, "Thales SESO is a leading supplier of highly customized mirrors and benders for synchrotrons. Our patented 2nd generation bimorph is one of our most popular products, bringing a whole new level of performance, flexibility, and reliability."
Newport Corporation is described by Robert J. Tesoro, the company's regional sales manager, as a leading global supplier of advanced technology products and solutions for scientific research. Headquartered in California, Newport has more than 40 years of industry knowledge and expertise across a broad range of technologies, allowing the company to continually deliver innovative products in the areas of lasers, photonics instrumentation, sub-micron positioning systems, vibration isolation, optical components, and precision automation to enhance the capabilities and productivity of its customers' research applications.
"For decades, we have been providing the synchrotron community with high-precision goniometers and diffractometers," said Tesoro. "Our new high-precision Hexapods are capable of positioning payloads weighing from a few pounds to half a ton to within fractions of a micron. Our capabilities in the area of vibration control are unsurpassed within the industry."
He added, "It's always great to attend the annual users' meeting at Brookhaven Lab. Our interaction with the scientists gives us a chance to present our latest capabilities and to learn about their upcoming needs. Their feedback and suggestions are always welcome as they help drive new product development and help us to enhance our current product offerings and technologies."
Located just 30 miles west of Brookhaven Lab on Long Island, Morrell Instrument Company is the premier Nikon microscope, measuring, and digital-imaging dealer, serving the scientific research community in New York and in the mid-Atlantic region.
"As Nikon's representative at Brookhaven, it has been our pleasure to support the Lab's research for over 35 years," said Pete Bilella, Technical Sales Specialist for Morrell. "Because we believe that direct in-person dialogue is the best form of communication, we are typically on site several times each month, offering timely expert advice, advanced technical expertise, and hands-on instrumentation service to our many friends across all the disciplines studied at the Lab."
According to Bilella, Nikon is firmly established as the market leader in optical instrumentation and the only microscope company to manufacture its own glass, ensuring the very finest quality assurance throughout production. With more than 90 years of expertise in this field, Nikon has always been at the forefront of optical and technological innovation, promoting creativity and trustworthiness as part of the company's global mission statement.
The 2014 users' meeting website lists all vendors and meeting sponsors. The meeting's program will contain a list of vendors and their table locations in Berkner Hall, Bldg. 488; outside the Hamilton Seminar Room in the Chemistry Department, Bldg. 555; and outside the 2nd-floor conference room at the CFN, Bldg. 735.
For more information about the 2014 NSLS/NSLS-II and CFN Joint Users' Meeting, go here. Register by May 2 to avoid paying a late registration fee.
Vendors at the 2014 Users' Meeting
2014-4844 | INT/EXT | Newsroom