Brookhaven National Lab Honored Among 'Best of New York'
May 30, 2014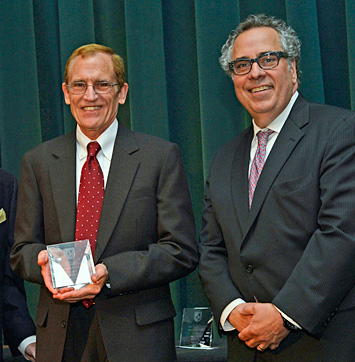 enlarge
Deputy Lab Director for Science and Technology Robert Tribble (left) receives Best of New York Award from Michael Lomonaco. Photo credit: Photo Excellence/718-670-3256
The U.S. Department of Energy's Brookhaven National Laboratory was among five New York institutions recently recognized by the New York City College of Technology (City Tech) as the "Best of New York." The Lab was honored May 14 at the 2014 Best of New York Award dinner at the Hilton Midtown in Manhattan.
Other honorees included the Brooklyn Navy Yard Development Corporation, the International Alliance of Theatrical Stage Employees Local 1, the National Science Foundation, and Société Culinaire Philanthropique, all of which have partnered with City Tech to develop graduates who are ready for the high-tech careers that increasingly define the global economy.
Before conferring the honor, Master of Ceremonies Michael Lomonaco, celebrity chef and managing partner of Porter House New York at Time Warner Center, spoke of several collaborations between Brookhaven Lab and City Tech, including last summer's Subway-Surface Air Flow Exchange (S-SAFE) field study, led by the New York City Police Department and Brookhaven. This study enabled students to work side-by-side with professional staff on a major interagency project, and gain research experience in several scientific and technical areas.
Accepting the award, Deputy Lab Director for Science and Technology Robert Tribble recognized three Brookhaven Lab staff members who played crucial roles in the S-SAFE project: Paul Kalb and John Heiser from Brookhaven's Environmental and Climate Sciences Department, and Noel Blackburn, from the Lab's Office of Educational Programs.
"It's a true privilege to accept this award," Tribble said. "What they did was marvelous, collecting some 8,000 air samples that will provide very important information about airflow patterns in the city. It's all to make this a safer place for all New Yorkers."
Established in 1982, the Best of New York Award Dinner is hosted by the City Tech Foundation, a not-for-profit corporation chartered in 1981 to raise funds for the College. Proceeds from the annual dinner help fund foundation-sponsored scholarships and other student financial assistance and professional development programs.
More information about the S-SAFE study.
2014-4917 | INT/EXT | Newsroom