Long Island at War: Camp Upton Artifacts on Display at Long Island Museum
July 3, 2014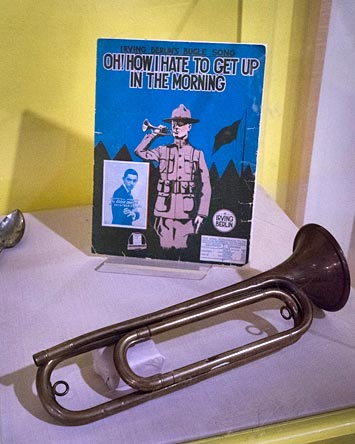 enlarge
Items from Brookhaven Lab's Camp Upton collection include this sheet music from well-known American composer Irving Berlin and a bugle from the World War I era, part of the "Long Island at War" exhibit at the Long Island Museum in Stony Brook.
When the Long Island Museum in Stony Brook decided to launch an exhibit on "Long Island at War," it wasn't a surprise that contacting Brookhaven Lab would be on their "to do" list. After all the Lab site, originally Camp Upton during World War I and World War II, had an interesting and rich history long before it became Brookhaven National Laboratory where physicists could study peaceful uses of the atom and lead the Lab to become a world-class scientific institution. Before there were accelerators, light sources, nano centers, and biology and chemistry buildings, the site was home to barracks, officers' quarters, and training trenches. The Camp served as an induction and training camp during World War I, and later as an induction camp and military rehabilitation center for returning soldiers during World War II.
Over the years, the Laboratory has received many military items relating to Camp Upton, donated by members of the community. According to Tim Green, the Lab's Cultural Resource manager, the Lab now holds quite a collection of artifacts.
"Items in the collection range from military uniforms to bugles, diaries, canteens, and photos," said Green. "We even have the sheet music of 'Oh! How I Hate to Get Up in the Morning,' written by a young Irving Berlin while he was stationed at Camp Upton during World War I. Berlin also wrote 'God Bless America' while stationed at Camp Upton. This interesting and important part of American history is right here where we come to work every day."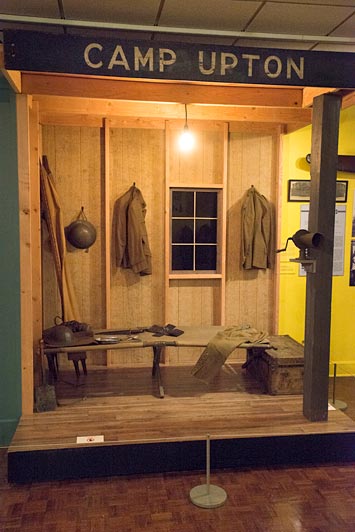 enlarge
A makeshift bunk area on exhibit at the Long Island Museum in Stony Brook shows the standard items soldiers may have had in their barracks while stationed at Camp Upton.
The curator from the museum selected several items from the Brookhaven collection, including a wooden Camp Upton sign circa World War I, bayonet, military helmet from the Army's 77th Infantry Division (nicknamed the "Liberty Division"), mess kit, and gas mask, that all lie on an Army cot reminiscent of that time in our history. A stretcher is leaning against the wall and a wooden trunk bearing the name of a soldier is placed at the foot of the cot. The curator added uniform jackets that hang on hooks in the museum's makeshift bunk area helping to demonstrate the small amount of space that was shared by the soldiers in their barracks. A glass case proudly displays Irving Berlin's sheet music and a World War I-era bugle.
These few, small artifacts actually tell a very big story — the story of how one Army camp on Long Island made notable contributions to our country's military history. Even before Brookhaven Lab was on the horizon, the Upton site had already made an indelible mark on history. The Laboratory continues the tradition by making strides in scientific history that make our world a better place.
The exhibit will be at the museum through December 28, 2014. Also included in the Long Island at War exhibit are items from the Roosevelt estate and Grumman Aerospace Corporation.
Want to read more about Camp Upton?
More information on the Long Island Museum at Stony Brook.
2014-5005 | INT/EXT | Newsroom