Brookhaven Lab's Susan Pepper Honored by Institute of Nuclear Materials Management
Intern Luis Giraldo also recognized
August 22, 2014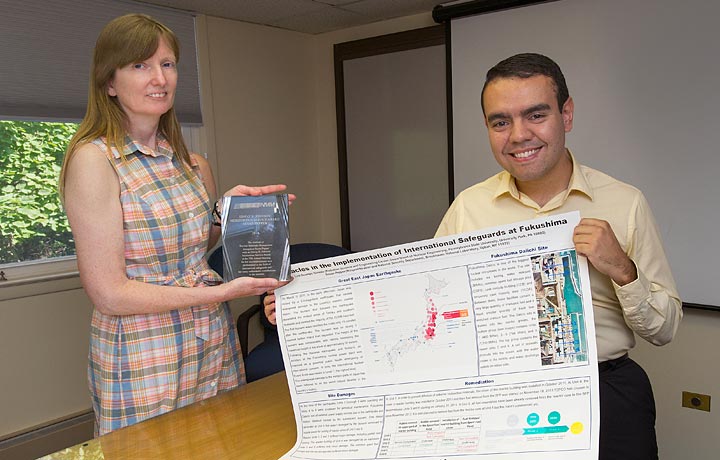 enlarge
Susan Pepper and intern Luis Ocampo Giraldo
Susan Pepper, deputy chair of Brookhaven National Laboratory's Nonproliferation and National Security Department (NNS) and leader of its Safeguards Policy and Implementation Group, has won the Edway R. Johnson Meritorious Service Award, given by the Institute of Nuclear Materials Management (INMM).
At the INMM's 55th annual meeting, Pepper was honored "for her accomplishments as a professional in the field of international safeguards and her many enthusiastic contributions to the institute."
At the same meeting, Brookhaven Lab intern Luis Ocampo Giraldo was named runner-up in the J.D. Williams Student Paper Competition, based on research he performed at the Lab during the summer of 2013.
The Institute of Nuclear Materials Management (INMM) is the premier nonprofit technical organization devoted to ensuring the safe, secure and peaceful stewardship of nuclear materials for the benefit of mankind. Nuclear materials management involves the production, use, storage, transport, handling, protection, accounting and other essential aspects involved with the fundamental elements of the civilian nuclear fuel cycle, most notably uranium and plutonium.
Pepper's award was named for Edway R. Johnson, a longtime member of INMM, who served as the organization's president and was a leader the field of nuclear materials management. He was the first recipient of the INMM Meritorious Service Award, which was renamed in his honor in 2010.
Pepper received bachelor and master's degrees in civil engineering from the Massachusetts Institute of Technology, emphasizing structural and geotechnical engineering. A Brookhaven Lab employee since 1985, she worked in the Department of Nuclear Energy's Structural Analysis Division for eight years before joining NNS, where she served as liaison officer at the U.S. Mission to UN System Organizations in Vienna and as head of the NNS Project Office before becoming deputy department director.
"Susan is invaluable to the NNS Department," said Department Chair Carol Kessler. "Her expertise in program and project management, international safeguards, and her skill in managing complex interactions among the IAEA, U.S. labs, private sector partners and Brookhaven Lab is unparalleled. She is focused and level-headed in her business dealings and thus very successful. She is a strong contributor to the department's bottom line financially and technically. "
Born in Colombia, Giraldo came to the United States 15 years ago and now lives in New Jersey. He is pursuing a Ph.D. in nuclear engineering at Pennsylvania State University and hopes to work in the field of international nuclear safeguards and security. He recently completed his second summer in the Lab's Graduate Research Internship Program (GRIP), administered by the Office of Educational Programs and designed for both masters and PhD students in life or physical sciences, computer science, engineering, or mathematics. His winning paper was titled "Status of the Implementation of Safeguards by Design in the International Safeguards Regime."

"Luis came to intern with the Nonproliferation and National Security Department for the first time in the summer of 2013," said Pepper. "He was very eager to learn about safeguards and he researched the current status of Safeguards by Design, which is a safeguards strategy to build safeguards-ready nuclear facilities. Luis prepared a good paper on his research, continued to develop it over the winter and turned it into a truly professional, comprehensive document, deemed to be the second-best paper out of more than 125 student papers submitted to the 2014 annual meeting. "
This year, Giraldo chose to focus his internship research on the application of safeguards at nuclear facilities following catastrophic events like the tsunami in Japan and the accidents at Chernobyl and Three Mile Island.
"Brookhaven Lab is very special to me," Giraldo said. "I really enjoyed seeing that 'passion for discovery' was not just a written phrase but rather something you feel when you talk to everyone in every department. Interning with Susan gave me an authentic perspective on international safeguards. She introduced me to many experts and got me started on the concept of safeguards by design. I appreciate her dedication and commitment to students and I am very thankful for her support."
2014-5109 | INT/EXT | Newsroom