First Users Usher in Science at the National Synchrotron Light Source II
The first scientific and industrial researchers ran their experiments this summer, and the fall scientific slate is filling up at the new synchrotron
September 16, 2015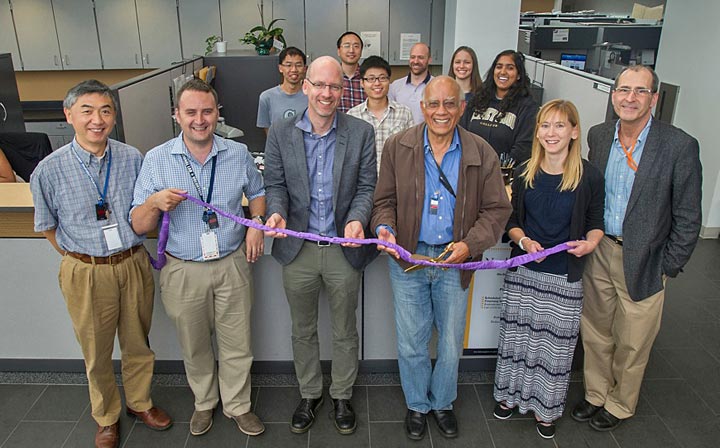 enlarge
The first users of the Coherent Soft X-ray (CSX) beamline with the CSX team and NSLS-II Director, John Hill.
Over the summer, the National Synchrotron Light Source II hosted its first scientific users. The $912 million dollar facility at the U.S. Department of Energy's Brookhaven National Laboratory has been in design and construction mode for years, and the transition to scientific operations has been capped off with both scientific and industrial users experimenting at the new beamlines at NSLS-II.
The Coherent Soft X-ray (CSX) beamline, the first to achieve 'first light' last October, hosted a team from the University of California, San Diego led by Dr. Sunil Sinha for research in condensed matter physics.
"It's exciting to host our first users," said Stuart Wilkins, the CSX beamline leader who oversaw the design, planning, and construction of the beamline. "After so many years, it's gratifying to see our beamline being used for it's purpose, to do cutting-edge science."
Dr. Sinha and his team are pictured above at the ribbon-cutting ceremony to celebrate the first users at NSLS-II, the brightest synchrotron light source in the world.
Another beamline, the Submicron Resolution X-ray Spectroscopy (SRX) beamline, hosted industrial users from the Henkel corporation, a global player in the chemical industry.
"Our users were very happy with their experience at SRX," said Juergen Thieme, the lead beamline scientist at SRX. "They are experienced synchrotron users, and they chose to come to NSLS-II because of the performance of the machine. SRX is a beamline excellently suited for their research demands, and we look forward to working with them again in the future."
The next cycle of beam time open to scientific and industrial begins this fall, and the proposal submission deadline for winter is September 30, 2015.
Brookhaven National Laboratory is supported by the Office of Science of the U.S. Department of Energy. The Office of Science is the single largest supporter of basic research in the physical sciences in the United States, and is working to address some of the most pressing challenges of our time. For more information, please visit science.energy.gov.
2015-5943 | INT/EXT | Newsroom