Meet Robert Olsen, Renaissance Man
October 6, 2008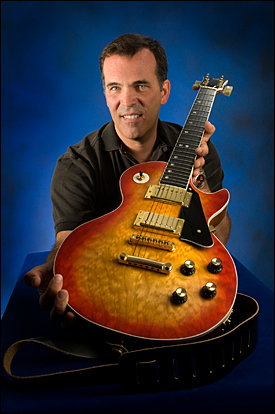 Robert Olsen
Robert Olsen, Advanced Applications Engineer in the Collider-Accelerator Department, is also a woodworker, musician, beer brewer, and grape grower. He has learned these numerous skills, both artistic and practical, mostly on his own. Multi-talented and creative, Olsen is a true Renaissance man.
After earning a bachelor's degree from Stony Brook University, Olsen initially worked on programming for the first commercial Magnetic Resonance Imaging (MRI) machines. He was one of the first persons to be scanned by an MRI machine, and he is a coauthor of an imaging technique patent still used in MRI.
At the Laboratory since 1992, Olsen writes software to control some of the Lab's premiere facilities - the Alternating Gradient Synchrotron, the Relativistic Heavy Ion Collider, and the NASA Space Radiation Laboratory. In the 1990s, Olsen bought a circa-1950s cottage in Rocky Point, and since it needed renovations, he learned woodworking with the help of a carpenter. After taking care of basic home repairs, he started making furniture for his home, including a table, kitchen cabinets and a bathroom vanity.
As a skilled musician who was becoming increasingly proficient at woodworking, Olsen eventually taught himself to build his own guitars. So far, he has built three guitars and two electric upright bases. He uses mahogany and maple for the guitar bodies and ebony or rosewood for the fret boards."
"Different woods make different sounds," said Olsen, who plays both guitar and piano. "I play rock guitar using my homemade guitars in a band with three professors from Stony Brook at an occasional party or conference. I also play jazz piano in Monday night jam sessions in Mattituck and for an occasional benefit concert."
Using a kit, Olsen also built a kayak. He now uses it to explore Mount Sinai Harbor and Carman's River. He also tried renovating a wooden sailboat but decided smaller projects were more to his liking.
Recently, Olsen began brewing beer at home, making a Belgian style ale, which took six months to be ready for drinking. "I keep the beer in the basement while it conditions," Olsen said. "The brewing process is messy, and there are some distinctive odors involved, but the beer was delicious."
About three years ago, Olsen took on another challenge - growing Cabernet Sauvignon, Cabernet Franc, and Merlot grapes for winemaking. He bought the grapes from an upstate nursery upon the advice of the Suffolk County Cornell Cooperative Extension. "This is the first year that I may get enough yield to make wine," Olsen said. "I found out that it is a lot of work to grow grapes. I have to watch out for fungus, insects and birds. I've found that it's almost impossible to grow 100 percent organic grapes."
Still, Olsen likes the challenge of trying different things. "I haven't yet specialized in one area," he said. "If I had to choose one pursuit that I like best, it's music. But I enjoy all of my hobbies. I'm never bored."
Think you or one of your colleagues has a good story to tell? Email us! Although we can't write about everyone, we would love to hear your ideas and suggestions.
2008-817 | INT/EXT | Newsroom