iCFN: Message from CFN Director Emilio Mendez
April 21, 2014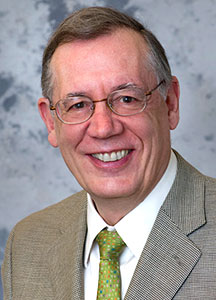 Emilio Mendez
I would first like to extend a hearty welcome to warmer weather after that long winter. Our scientific productivity never flagged, but I'm sure many of you are as happy as I am to see the Lab's campus springing back to life. This is also a period of significant renewal and growth for CFN and our colleagues in Photon Sciences.
As you know, our close collaboration with the National Synchrotron Light Source helps distinguish the CFN research portfolio. We have three scientists dedicated full-time to NSLS collaborations, and more than 60 percent of CFN scientific staff is involved in research using that facility—both with users and on in-house projects. With NSLS-II on the horizon, we have an extraordinary opportunity for a synergy that combines that world-leading light source with our own advanced research facilities and expertise in creating, characterizing, understanding, and applying nanomaterials.
Our track record of achievement with NSLS bolsters this vision for the future. We currently operate three endstations at NSLS with specific capabilities: small-angle x-ray scattering (SAXS), photoelectron emission microscopy (PEEM), and ambient-pressure x-ray photoelectron microscopy (AP-XPS). These constitute our Endstations Facility, which is the most competitive of all seven CFN facilities, based on the ratio of selected user projects to submitted proposals.
Since 2010, 241 distinct users conducted research at the Endstation Facility—most of them from outside Brookhaven Lab—resulting in 72 journal publications. Importantly, nearly half of the 2013 publications were in high-impact journals, an even higher ratio than for the CFN overall.
With NSLS-II, we can make even more groundbreaking discoveries. To say that the future is bright is an understatement. The CFN has dedicated considerable resources to NSLS-II, including three first-light projects led by CFN scientists and proposals to become a Partner User on four different beamlines. Initially, we will transfer our current AP-XPS endstation from NSLS to NSLS-II. At the same time, we are designing an entirely new endstation to take full advantage of the ultra-bright x-rays of NSLS-II and reach XPS at atmospheric pressure.
The x-ray spectroscopy and coherent scattering capabilities at NSLS-II will be especially complementary to CFN's characterizations of catalysts in real-time under real operating conditions using different electron microscopes. In fact, you can learn a bit more about in operando experimentation in this issue's interview with Gayani Perera about scanning tunneling microscopy.
To further advance both that partnership and our entire research portfolio, I encourage the user community to get involved in CFN operations. Tell us what we can do better! There are always new opportunities to shape the plans for upgrades or new facilities, and NSLS-II offers a rare chance to get in on the ground level. The message from Stanislaus Wong, our User Executive Committee chairperson, offers much more info on ways to participate.
The NSLS/NSLS-II & CFN Joint Users' Meeting is coming up in May. This is our last Users' meeting while NSLS is still in operation and marks an experimental turning point at Brookhaven Lab. Please plan to attend and lend your voice to the discussions and workshops.
Have an exciting and productive spring! I look forward to seeing your work and talking to you all about the growing opportunities for discovery at CFN.
— Emilio Mendez
Director, Center for Functional Nanomaterials
2014-4815 | INT/EXT | Newsroom
Subscribe to iCFN
Sign up to receive iCFN in your email inbox.