Traditional Country Music Arrives on Long Island via The Crooked Road
March 3, 2010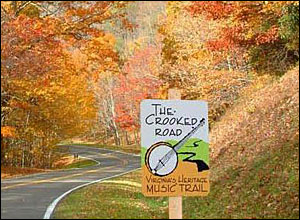 UPTON, NY — The success of the Academy Award-winning film O Brother, Where Art Thou and its Grammy-winning soundtrack revived interest in the uniquely American folk music of the Appalachian Mountain region of southwestern Virginia. This traditional style of music is very much alive and well and Brookhaven National Laboratory will host an evening of music and fun when musicians from Virginia's "Crooked Road" project visit Berkner Hall on Friday, March 26. The show will start at 8 p.m. All visitors to the Lab 16 and older must bring a photo I.D.
The Crooked Road refers to an area within the Appalachian region of southwestern Virginia with a deep-rooted and rich musical heritage. Through "The Crooked Road: Virginia's Music Heritage Trail," founded in January 2003, the tradition is being preserved. The "Trail" meanders along the rural Appalachian Mountains through scattered towns and several small cities tying the region together. It is a place where the local music is a part of the fabric of family and community life, a place where your mail carrier appears on weekend nights playing guitar accompanied by the waitress from Joe's Diner on bass, the 14-year-old eighth grade whiz kid on fiddle, and a mandolin player who builds handcrafted instruments for his day job. While most are not "full time" musicians they are among the finest practioners of this great music.
Among the musicians who will perform at the Brookhaven show are singer and bassist Linda Lay and her husband David on guitar. Their recent CD (along with Sammy Shelor on banjo) Taking the Crooked Road Home is a collection of fascinating songs about life in the Virginia hills embroidered with gorgeous fiddle and mandolin. The evening will also feature a special guest appearance by recording stars Jonny Clutch and the Jambusters. Discovered by John Lohman, official Folklorist of the State of Virginia, Clutch was slicing roast beef and singing behind the counter of a corner deli when he was whisked off to the recording studio where his recent hit album, It Takes One to Know One (CD Baby.com), was rushed into production. There's more to this musical story including a surprising twist, so come out and hear the rest!
The concert is sponsored by BERA. Tickets are $15 in advance (available at ticketweb.com) and $20 at the door. Advance ticket purchase is recommended. For more information about the BNL concert, call 631 344-7644.
For more information, visit The Crooked Road website.
2010-11090 | INT/EXT | Newsroom