Contact:
Peter Genzer
, (631) 344-3174 | Written by Diane Greenberg
Brookhaven Lab's Small Business Program Receives Hauppauge Industrial Organization-Long Island Business Achievement Award
August 18, 2010
UPTON, NY — The Small Business Program of the U.S. Department of Energy's Brookhaven National Laboratory has been chosen to receive the Hauppauge Industrial Association-Long Island (HIA-LI) Business Achievement Award in the "Special Innovation" category, which recognizes outstanding accomplishments and technical innovation, industry leadership, and commitment to the continued growth of the Long Island business community. HIA-LI is a 30-year-old business organization that focuses on the economic health of its approximately 1,000 member companies and the entire Long Island business community.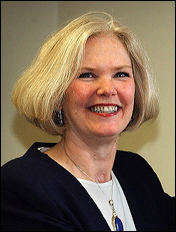 Jill Clough-Johnston
Brookhaven Lab's Small Business Liaison Officer Jill Clough-Johnston will accept the award, an engraved plaque, at HIA-LI's 16th Annual Business Achievement Gala Luncheon to be held at the Crest Hollow Country Club in Woodbury on September 14.
"Brookhaven Lab's Small Business Program is honored to receive this award," Clough-Johnston said. "We have strong ties to the local business community, and we have recently established innovative business practices that make it easier for suppliers to do business with the Lab. During the last three fiscal years, Brookhaven Lab awarded $278 million in contracts – more that 50 percent of our total procurement budget – to small businesses."
Terri Alessi-Miceli, President of HIA-LI, said, "HIA-LI is pleased to recognize Brookhaven National Lab's Small Business Program in the Special Innovation category. We believe that the winners of these awards are among the best run companies, not only on Long Island, but in the entire world."
Last year, Brookhaven Lab bolstered the Long Island economy by awarding $53.5 million in contracts to local businesses. With the injection of American Recovery and Reinvestment Act funds into its budget, the Laboratory spent $105 million on contracts with small businesses during the first three-quarters of fiscal year 2010, which began on October 1, 2009. About $80 million of that amount was spent between April and June 2010.
The Laboratory's Small Business Program offers numerous free small business conferences, seminars, and showcases, which are used as a vehicle for local small businesses to market their products or services to the Laboratory. Also, the program assists local small businesses with business and technical problems or refers them to various partner associations for assistance.
HIA-LI's award and event sponsors include: ClearVision Optical, Inc.; Communication Strategy Group; Crest Hollow Country Club; Event Kings; Girl Scouts of Suffolk County; Holzmacher, McLendon & Murrell, P.C.; Irwin Contracting Inc.; Newsday; People's Alliance Federal Credit Union; Stalco Construction; Stony Brook University; Suffolk County National Bank; Vormittag, Inc. and Verizon.
2010-11171 | INT/EXT | Newsroom