Contact:
Peter Genzer
, (631) 344-3174 | Written by Diane Greenberg
Award-Winning Documentary Pray the Devil Back to Hell to be Shown at Brookhaven Lab, Aug. 3
July 19, 2011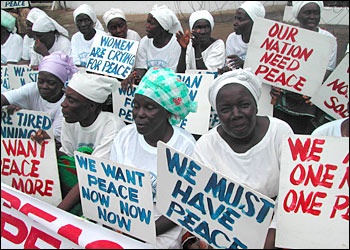 enlarge
Liberian women demonstrate at the American Embassy in Monrovia at the height of the civil war in July 2003
Photo Credit: Pewee Flomoku
UPTON, NY — Abigail Disney's award-winning documentary Pray the Devil Back to Hell will be shown at the U.S. Department of Energy's Brookhaven National Laboratory on Wednesday, August 3, at noon in Berkner Hall. Brookhaven Women in Science, Peconic Bay Zonta, and Suffolk County Community College's Office of Multicultural Affairs are sponsoring the screening of the one-hour-long film that chronicles the remarkable story of a group of Liberian women — both Christian and Muslim — who banded together to end a bloody civil war and bring peace to their country. The public is invited to the free screening. Visitors to the Laboratory age 16 and over must bring a photo ID.
Through interviews, archival footage, and striking images of Liberia, the film reconstructs the time in 2003 when women took on the violent warlords of the corrupt Charles Taylor regime, barricading the site of stalled peace talks. The women's demonstrations culminated with Taylor's exile and the election of Ellen Johnson Sirleaf, Africa's first female head of state. The film is a compelling testimony of how women engaged in nonviolent activism can change the course of history.
The film won the Jury Prize for Best Documentary when it premiered at the Tribeca Film Festival in 2008. Since then, it has been shown in 60 countries and has won many more awards.
Call 631-344-2345 for more information. The Laboratory is located on William Floyd Parkway, one-and-a-half miles north of Exit 68 of the Long Island Expressway.
2011-11311 | INT/EXT | Newsroom