Contact:
Peter Genzer
, (631) 344-3174 | Written by Justin Eure
Brookhaven Lab Physicist Guangyong Xu Receives 2012 Science Prize from the Neutron Scattering Society of America
Probing the fundamental atomic structure of ferroelectric materials helped pave the way for future breakthroughs
February 17, 2012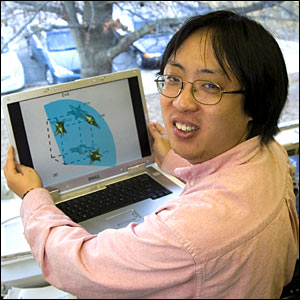 enlarge
Physicist Guangyong Xu examines simulations of neutron scattering in relaxor ferroelectrics.
The Neutron Scattering Society of America (NSSA) has named Guangyong Xu, a tenured physicist at the U.S. Department of Energy's Brookhaven National Laboratory, the recipient of their 2012 Science Prize. The award recognizes Xu's major scientific contributions through the use of neutron scattering to investigate atomic structures. In this process, scientists bombard materials with focused beams of subatomic particles called neutrons, which react subtly and precisely with the target to reveal important inner properties.
Xu was recognized for achieving "profound experimental insights in relaxor ferroelectrics through neutron and synchrotron x-ray diffraction," work completed over the past five years at Brookhaven Lab. NSSA will give Xu the award and a $2500 honorarium at the American Conference on Neutron Scattering in Washington, D.C., on June 24.
"It is an honor and pleasant surprise to receive this award," Xu said. "I am grateful for the support of my collaborators and group members, and for the opportunity to apply a neutron scattering perspective to ferroelectrics. It's great having the freedom to explore fundamental questions and do basic research that may one day have a major impact."
Ferroelectric materials are uniquely capable of spontaneous electrical polarization, which can be reversed by applying an electric field. This becomes valuable, in part, because they are usually piezoelectric and pyroelectric, meaning their polarization can also be modulated by mechanical forces or temperature and converted into tunable energy. That versatility can be integrated into complex technologies such as sonar, ultrasound, and other sensors that can convert vibrations into information.
"Initially my work on ferroelectrics produced some surprising results," said Xu, adding that neutron scattering provides very direct observation of its targets. His work explored individual configurations of polar nano-regions, tracking detailed activities such as phonon propagation. "The local atomic structures are interesting fundamentally, but I believe I have found connections between the subatomic arrangement and the bulk properties."
NSSA recognized Xu for work they say paved the way for a breakthrough in the development and design of improved ferroelectrics. Xu, who came to Brookhaven Lab specifically because of its neutron scattering capabilities, will continue to use this technique to explore the electromechanical potential of these materials.
"I am very proud that Guangyong's outstanding neutron scattering experiments have received this recognition from his peers," said John Tranquada, a senior physicist and leader of the Neutron Scattering Group at Brookhaven, who has also been honored by NSSA. "He continues a long tradition of excellence in neutron scattering here. In particular, one of Guangyong's mentors was the late Gen Shirane, who was a long-time collaborator with Bob Birgeneau, recipient of this year's NSSA Shull Prize."
Originally from Beijing, China, Guangyong Xu received his PhD in physics from Johns Hopkins University in 1999, where he first began working with neutron scattering probes. He completed his postdoctoral research at the University of Chicago before joining Brookhaven's Condensed Matter Physics and Material Sciences Department in 2002, and in 2010 became a tenured physicist.
2012-11385 | INT/EXT | Newsroom