Contact:
Peter Genzer
, (631) 344-3174 | Written by Joe Gettler
Brookhaven Science Associates Donates $20,000 for Ongoing Typhoon Haiyan Recovery Efforts in the Philippines
January 31, 2014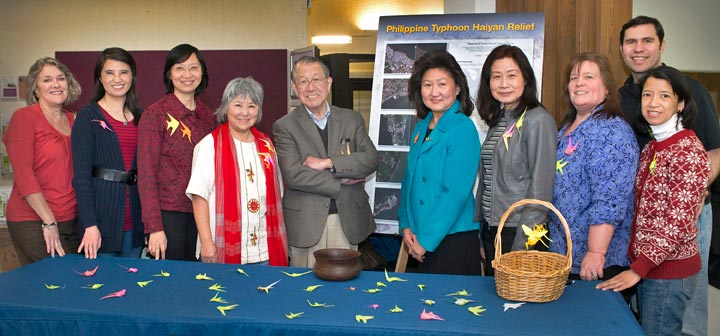 enlarge
Some of the Brookhaven Science Associates employees at Brookhaven Lab who helped collect donations for relief efforts included (from left) Christine Carter, Lihong Ma, Wei Chen, Hue-Anh Pham, Satoshi Ozaki, Susan Eng Wong, Joanne Beebe-Wang, Christina Sanfilippo, and Gene and Marie Van Buren.
UPTON, N.Y—With recovery efforts continuing three months after Typhoon Haiyan ravaged the Philippines, Brookhaven Science Associates (BSA)—the company that manages Brookhaven National Laboratory for the U.S. Department of Energy—and its employees at Brookhaven Lab have donated $20,000 to the American Red Cross for people of the island nation.
The donation will help the Red Cross provide and distribute supplies including food, clean water, tarps, water cans, mosquito nets, and hygiene kits after the November storm's sustained 160-mile-per-hour winds and 16-foot storm surges left thousands dead and millions displaced.
BSA's partners, Stony Brook University and Battelle, provided $10,000 toward the donation, matching employees' contributions of $10,000.
"From Superstorm Sandy to the tsunami in Japan and now this devastating typhoon in the Philippines, Brookhaven Science Associates and its employees have rallied to help people directly impacted by these natural disasters," said BSA Board Chair and Stony Brook University President Samuel L. Stanley Jr., M.D.
"Employees of Brookhaven Science Associates come together at Brookhaven Lab to solve scientific challenges and improve lives. With this donation, we've come together to help people of the Philippines as they face the tremendous challenges of rebuilding after Typhoon Haiyan," said Brookhaven Lab Director and BSA President Doon Gibbs.
Members of the Asian Pacific American Association (APAA) at Brookhaven staffed collection tables during lunch breaks to take donations from employees in November and December 2013, the first two months after the typhoon.
"Some APAA members are from the Philippines, so this disaster on the other side of the world hit even closer to home," said APAA co-chair Susan Eng Wong of the Lab's Information Technology Division, who helped coordinate volunteers. "As we collected donations, we marveled at our colleagues' generosity and their desire to help others through tough times."
In the 15 years that BSA has held the management and operations contract for Brookhaven Lab, it has donated substantial funding to support relief efforts around the globe following disasters, including 9/11, the 2005 southeast Asia tsunami and Hurricane Katrina, the 2008 China earthquake and cyclone in Myanmar, the 2011 Japan earthquake and tsunami, and Superstorm Sandy. BSA also contributes to Brookhaven Lab's annual fundraising campaign for the United Way of Long Island.
2014-11605 | INT/EXT | Newsroom