Gail Mattson Named Brookhaven Lab's Assistant Laboratory Director for Environment, Safety & Health
March 28, 2014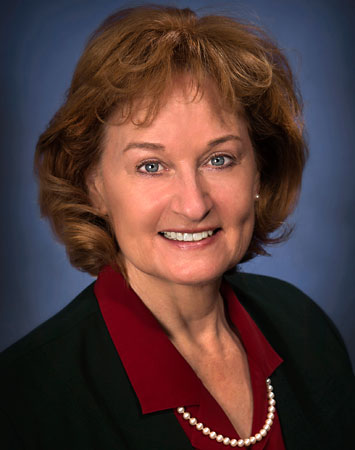 enlarge
Gail Mattson
UPTON, NY — Gail Mattson, a nationally recognized project management professional and environmental engineer with more than 25 years' experience in working with federal agencies, has been named Assistant Laboratory Director (ALD) for Environment, Safety & Health (ES&H) at the U.S. Department of Energy's Brookhaven National Laboratory, effective April 7th. She will take over for George Goode, who has accepted another position at the Laboratory after serving as ALD since 2010.
Overseeing 134 employees and an annual budget of $31 million, Mattson will be responsible for environmental protection and occupational safety and health at the Laboratory's 5,300-acre site, ensuring compliance with federal, state, and local regulations that protect the Laboratory's 3,000 employees, the public, and the environment. Mattson will oversee work in the Environmental Protection Division, the Radiological Control Division, and the Safety & Health Services Division, and also manage the ongoing environmental cleanup at the Laboratory, with a focus on ensuring the program meets its soil and groundwater cleanup goals.
"I am looking forward to supporting the exciting research being conducted at Brookhaven Lab, along with sharing my knowledge and successful experiences in implementing strong environment, safety, and health programs at other Department of Energy sites and on major environmental projects," said Mattson.
Mattson is currently employed as the Executive Vice President, Operations, for EnergX, LLC, a service-disabled veteran-owned small business in Oak Ridge, TN that provides ES&H, nuclear safety, training, engineering and waste management services for federal agencies and commercial nuclear clients. From 2010 to 2012, she served as the Executive Vice President and Chief Operating Officer for PAI Corporation, a woman-owned small business that provided ES&H, quality, nuclear, engineering, and security services to government agencies and private industries. PAI's clients included the Department of Energy, National Nuclear Security Administration, and National Aeronautics and Space Administration, along with those agencies' management and operating contractors.
From 2006 to 2010, Mattson was employed as Vice President, Engineering for Navarro Research and Engineering, providing technical oversight of engineering projects and leading the company's successful expansion into the DOE environmental management market through a strong track record of strategic alignment, outstanding organizational performance, and delivering on customer expectations. While serving as Program Manager for Bechtel Jacobs Company, LLC, from 2000 to 2003, her responsibilities included serving as Program Manager leading a $200 million/year environmental management project in Oak Ridge, TN, with responsibility for environmental, safety, and health performance and waste operations at more than 800 facilities.
Mattson has worked for several other environmental and engineering firms including Parallax, Inc, Foster Wheeler Environmental, Ebasco Environmental, and Bechtel Corporation.
Mattson earned her B.S. in Chemistry and Biology from Baker University in 1973, and an M.S.E. in Environmental Engineering from the University of Washington in 1982. She is a registered professional engineer in eight states and a certified project management professional.
Mattson has been a leader in her field, in industry, and in the community. She has served as national president and member of the board for the Society of Women Engineers (SWE), and served on the board of directors for several other local and national organizations, including the International Network of Women Engineers and Scientists (INWES), United Way of Anderson County, TN, Girl Scouts of the USA, Girls, Inc. of Anderson County, TN, and the Children's Museum of Oak Ridge. She is also a member of multiple professional organizations, including the American Society of Civil Engineers and the Academy of Certified Hazardous Materials Managers.
Mattson's honors include the Fellows Award from SWE and the Distinguished Service Award from INWES.
2014-11625 | INT/EXT | Newsroom