Nora Sundin Named Manager of Brookhaven Lab's Stakeholder Relations Office
June 16, 2014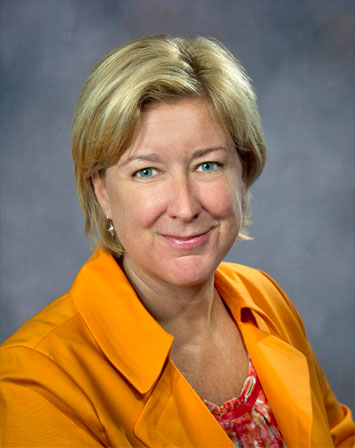 enlarge
Nora Sundin
UPTON, NY – Nora Sundin, a strategic communicator with significant experience in community relations and public administration, has been named manager of the Stakeholder Relations Office at the U.S. Department of Energy's (DOE) Brookhaven National Laboratory, effective June 16. Sundin has served as interim manager of the office since 2013.
Brookhaven's Stakeholder Relations Office supports the Laboratory's commitment to being a good neighbor and valued employer, and to engaging in open, honest, and transparent communications with its many communities.
"I'm proud to join Brookhaven Lab's management team and support efforts to achieve our mission on behalf of the U.S. Department of Energy and the nation," said Sundin. "Working with the Lab community and interacting with our stakeholders has been a truly rewarding experience for me, and I look forward to expanding those interactions in my new role."
As Manager, Stakeholder Relations, Sundin is responsible for implementing the Lab's community involvement and engagement programs; developing and cultivating mutually beneficial relationships with key stakeholders, including government representatives, industry, community organizations, and other internal and external groups; and managing the Lab's emergency public information and environmental community relations functions.
Sundin, who joined the Lab in 2008 as principal community relations specialist, also serves as liaison to the Laboratory's Community Advisory Council (CAC), a responsibility she's held since 2010. The CAC meets monthly to advise the Brookhaven Lab Director on Lab-related issues that are important or of interest to the community. The group is comprised of 26 member groups representing business, civic, education, employee, community, and environment and health organizations.
Under Sundin, the Stakeholder Relations Office sponsors numerous outreach programs with the support of hundreds of employee volunteers. These programs include Summer Sunday open houses, which welcome more than 6,500 visitors to the Laboratory each year; the Lab tour program; and "PubSci" and "Science on Screen" community science discussions. The office also coordinates all the community volunteerism, donation, and relief efforts sponsored by Brookhaven Science Associates, the company that manages Brookhaven Lab for DOE's Office of Science.
Sundin earned a B.A. in liberal studies from Southampton College, and her M.B.A. in public management from Dowling College. Before coming to Brookhaven, Sundin served as the Town of Islip's Deputy Commissioner of Parks, Recreation and Cultural Affairs from 2006-08. Prior to that, she worked as executive director of Keep Islip Clean, a not-for-profit litter-prevention community organization, from 1998-2006.
Sundin has earned numerous awards for her work, including the New York State Senate Woman of Distinction Award, Suffolk County Red Cross Community Service Award, Keep America Beautiful's National Outstanding Sponsorship Award, and National Learning for Life Accreditation Award.
2014-11649 | INT/EXT | Newsroom